SEMO Redhawks baseball picked OVC preseason favorite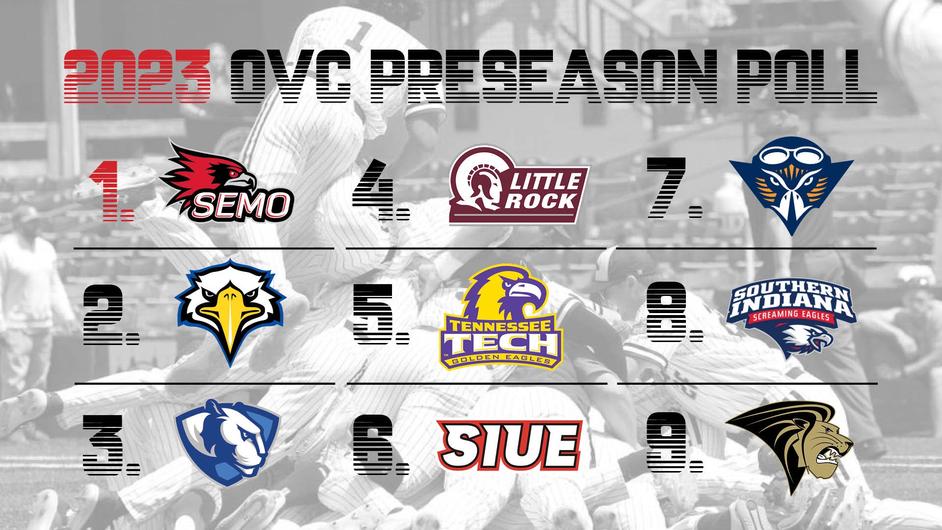 CAPE GIRARDEAU, Mo. (KBSI) – The reigning Ohio Valley Conference Tournament Champion Southeast Missouri baseball team was picked as this year's OVC preseason favorite.
SEMO won the OVC regular-season and tournament titles in 2021 and second-straight OVC Tournament crown in 2022.
The Redhawks accumulated 128 points and 16 of the 18 possible first-place votes in the poll selected by the league's Head Coaches and Communications Directors.
Morehead State (100 pts., 2 first-place votes), Eastern Illinois (89 pts.), Little Rock (86 pts.) and Tennessee Tech (78 pts.) filled out the top-five. SIU Edwardsville (76 pts.), UT Martin (41 pts.), Southern Indiana (26 pts.) and Lindenwood (24 pts.) completed the predicted order of finish.
SEMO outfielders Jevon Mason and Brett Graber and right-handed pitcher Kyle Miller were chosed for this year's Preseason All-OVC Baseball Team.
Mason is from West Des Moines, Iowa. He garnered OVC All-Tournament team accolades in 2022. He ranked fourth on the team with a .317 batting average in 59 starts, including 57 in left field. Mason tied for second on the team with 73 hits, ranked tied for third in doubles (14) and third in home runs (14). His 72 runs scored led the conference and rated 23rd in the nation.
Graber is from Sacramento, California. He was a Second-Team All-OVC pick last season. He finished third on the team with a .321 batting average as one of four players who hit over .300. He posted 10 home runs, 42 runs scored, 70 hits, three triples and 46 RBI. Graber collected multiple hits in 22 of his starts, as well.
Miller is from Eureka, Mo.. He is a Second-Team All-OVC selection. He was SEMO's closer who went 8-4 with a 3.35 ERA in 24 relief appearances. Miller picked up six saves and led the Redhawks in wins. He struck out 47 and walked 14 in 45.2 innings.
Morehead State swept the preseason specialty awards. First baseman Jackson Feltner was voted OVC Player of the Year and left-handed pitcher John Bakko tabbed OVC Pitcher of the Year ahead of the 2023 campaign.
SEMO opens the season with a three-game series at Central Arkansas on February 17-19.