Things to do to prepare for back to school
Get your kids ready for another school year with these simple steps.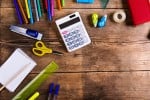 CAPE GIRARDEAU, Mo. (KBSI) – It's back to school time which means it's time to get prepared to hit the books.
Here are a few things to do to prepare to get your kids and yourself ready for another school year.
Start a morning schedule
Set out clothes the night before
Go to bed early and stick to a bedtime routine
Eat a healthy breakfast
Make a healthy lunch
Follow a lunch schedule
Set up a place to study after school
Make dedicated TV-free time
Stock up on school supplies
Create a central calendar. This calendar meshes all family calendars and schedules into one so you can take one glance and see what is going on for the week.
Gather paperwork. This includes medical exams, immunization records, birth certificates, registration confirmations, etc.
Do a practice run. Before the first day of school know how long it will take to get to school. Account for morning traffic. Bus riders need to be familiar with the location of the bus stop.