1 injured, 1 arrested after stabbing in Texico, IL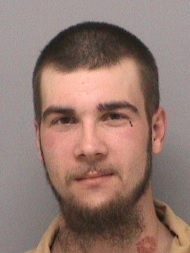 TEXICO, Ill. (KBSI) – One man is injured and another was arrested after a police responded to a domestic violence report in Mt. Vernon on Friday.
Kenny C. Snow, 21, of Texico faces an aggravated battery charge.
Deputies from the Jefferson County Sheriff's Office, an officer from the Mt. Vernon Police Department and troopers with the Illinois State Police responded to 21004 N. Snapdragon Lane in Texico in the late evening for a domestic violence report of someone battered and shots fired.
Officers found a resident of the home was the victim of a stabbing. He was taken to Crossroads Hospital and then airlifted to another hospital by Air Evac.
Snow, another resident of the home, had left the scene before officers arrive, according to the sheriff's office.
Snow was found walking on IL Hwy 37 near the intersection of Beal Road. He was arrested and taken to the Jefferson County Jail.
Illinois State Police Crime Scene Services were dispatched to process the scene.
The investigation continues with potential other charges possible including cases being handled by the Mt. Vernon Police Department that occurred earlier the same day, according to the Jefferson County Sheriff's Office.