1 injured, 1 arrested in Cape Girardeau shooting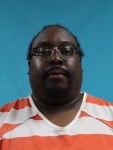 CAPE GIRARDEAU, Mo. (KBSI) – A Cape Girardeau man faces charges after a shooting left another man with two gunshots wounds.
Cape Girardeau police officers responded to North Park Street and Themis for a report of a shooting around 2:55 p.m. on Monday, September 6. When they arrived, they found a man who matched the description of the shooter on the front porch of a home in the block.
Jamala L. Garmon, 34, of Cape Girardeau was arrested. Officers seized a loaded, semi-automatic handgun that was positioned next to Garmon on a table on the porch, according to the Cape Girardeau Police Department.
The victim was found lying on the curb in front of the home with two gunshot wounds to his torso. He was taken by ambulance to a local hospital for non-life-threatening injuries.
It was reported that Garmon was engaged in a verbal altercation with the victim for a short period of time prior to the shooting incident.
A formal warrant has since been issued for assault in the 1st degree and armed criminal action. Garmon was taken to the Cape Girardeau County Sheriff's Office where is he is held on a $100,000 cash only bond.