3 injured after 2 separate rollover crashes in Graves County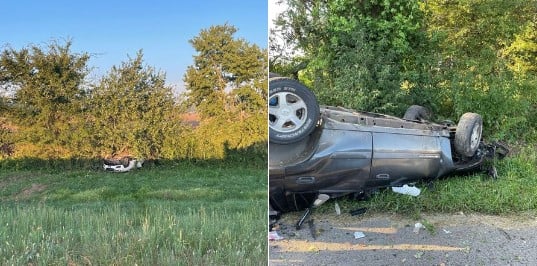 GRAVES COUNTY, Ky. (KBSI) – Three people have possible minor injuries after two separate crashes Monday morning in Graves County.
The Graves County Sheriff's Office responded to two, rollover vehicle collisions within an hour of each other on Sept. 11.
At 7:37 a.m. Sgt. Richard Edwards responded to a single vehicle rollover collision on US 45 North between West Sawyer Road and KY 2194 in the southbound lanes. Kelsey L. Kendall, 33, of Mayfield was northbound on US 45 North when she lost control of her vehicle, according to the sheriff's office.
Kendall traveled across the median of US 45, across both southbound lanes, struck a ditch and then overturned. She was driving a 2016 Honda SUV. It came to rest on its roof.
Kendall was treated at the scene by Mayfield/Graves County EMS but refused transport to a medical facility. Sgt. Edwards was assisted on this collision by Deputy John Cavin, the Viola Fire Department and Mayfield/Graves County EMS.
Just after this crash, a 911 call was received at 8:23 a.m. of another single vehicle rollover collision on Burnett's Chapel Road in the Sedalia/Tri City area.
Deputy John Cavin responded to this crash. His investigation determined that Hanna Ward, 33, of Farmington was westbound on Burnett's Chapel Road in a 2004 Chevrolet SUV when her vehicle dropped off the side of the road. She over-corrected which caused her vehicle to slide, running off Burnett's Chapel Road and striking two trees, according to the sheriff's office. Her vehicle overturned and came to rest on its top.
Ward, and her passengers, Phoenix Albritton, 7, and Crimsyn Albritton, 3, were taken by private vehicle to Murray/Calloway County Hospital for treatment of possible minor injuries.
Deputy Cavin was assisted at this collision scene by Sgt. Richard Edwards, the Sedalia Fire Department and Mayfield / Graves County EMS.
Thankfully, no serious injuries resulted from either collision.