Bollinger, Madison counties named in COVID-19 Hotspot Advisory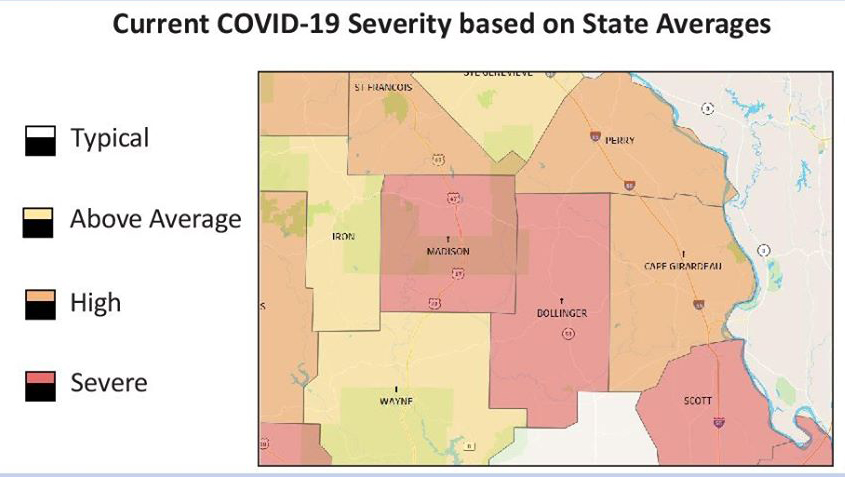 BOLLINGER & MADISON COUNTIES, Mo. (KBSI) – The Missouri Department of Health and Senior Services (DHSS) has named Bollinger and Madison counties in a COVID-19 Hotspot Advisory.
In recent weeks, nearby counties in southwest Missouri have experienced a surge in COVID-19 cases and hospitalizations. The increase of COVID-19 cases continues to move eastward. The Delta variant is the predominant cause of these cases. The DHSS is creating hotspot advisories in partnership with the Missouri Chamber of Commerce and Industry and Missouri Hospital Association for counties across the state to give insight to community leaders to help overcome vaccine hesitancy and encourage community members to get vaccinated. Getting vaccinated is the best way to control the spread of this disease.
The advisory shows cases and hospitalizations are increasing. The COVID-19 vaccination rate in the counties is below the state rate of 46.6%.  COVID-19 vaccine is widely available and can be found by going to MOStopsCovid.com or VaccineFinder.org.
Covid Stops Here, a new campaign launched by the Missouri Chamber, recognizes Missouri workplaces that have achieved widespread vaccination.
Missouri recently launched a statewide COVID-19 vaccination incentive program, MO VIP, to encourage vaccination among all Missourians age 12 and up. Over the next couple of months, 900 Missourians who have or will choose to be vaccinated will win cash or education savings account prizes in the amount of $10,000.