City of Jackson announce Park Day time, date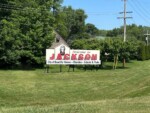 JACKSON, Mo. (KBSI) – Calling all Jackson Park Day volunteers! 
Spring cleaning is just around the bend, so get down to the city park to pitch in, have some snacks, and score a free t-shirt. 
Jackson's annual Park Day is scheduled for 8 a.m. April 29 at Pavilion No. 1 on Parkview Street in the city park. 
If you are unable to attend but would like to help out in any way possible, please contact the City of Jackson for details on other opportunities at 573-204-8848. You may also visit jacksonmo.org.