Car crash leaves two dead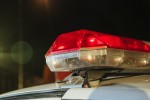 PORTAGEVILLE, Mo. — (KBSI) Two children are dead following a commercial auto crash with an SUV near the Portageville exit on Missouri I-55.
Sgt. Clark Parrott of the Missouri Highway Patrol has confirmed the fatalities, while saying one lane is closed as officers work the scene and continue their investigation.
Stay tuned to kbsi23.com as more details become available.