Flooded roads in FOX23 viewing area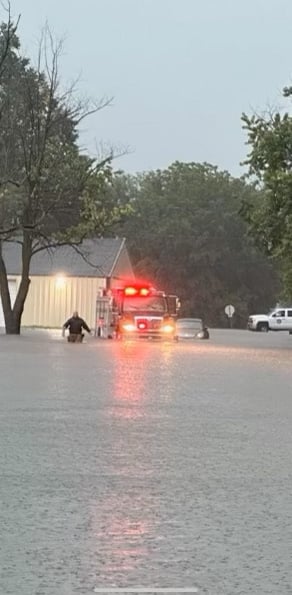 (KBSI) – Several roads are closed due to flooding Friday, August 4 after heavy rainfall.
Missouri
The Bollinger County Sheriff's Office continues to receive reports of blocked and flooded roadways throughout Bollinger County as of Friday, Aug. 4. If you approach a flooded or blocked roadway, do not attempt to pass through the obstruction and turn around. Utility crews will continue to be dispatched to any hazardous roadway reports along with first responders when needed. If you locate a flooded or blocked roadway, contact the Bollinger County Sheriff's Office at (573)238-2633 to provide that information. Route H is closed.
Sikeston received more than 10 inches of rain in a 25-hour period, causing flooding across town. Officials with the city of Sikeston are out in force, but citizens are asked not to travel on roads with barricades. If any resident sees a road that needs a barricade, contact the Sikeston Street Department at 475-3732.
Many roadways and some homes flooded in Sikeston on Thursday, Aug. 3.
The Complex in Sikeston was closed Thursday after heavy rain, according to Sikeston Parks and Recreation.
Route V in Madison County is closed, according to the Missouri Department of Transportation.
Route N and Route P in Cape Girardeau County are closed.
Kentucky
Kentucky Transportation Cabinet (KYTC) crews are making rounds to check on flooded highways. A flash flood watch has been issued for the entire region until noon on Friday.
The heavy rain created hazardous travel conditions in several counties. KYTC personnel are working with the City of Hickman along KY 94 where a mud slide is blocking the roadway along a section of Carroll Street in the downtown area. There are numerous highways and streets blocked due to flash flooding. KY 125/Union City Highway is blocked near the Hickman City Limits.
This report adds the closure of U.S. 51 north of Clinton in Hickman County.
As of 10:45 a.m. on Friday, Aug. 4, KYTC reports:
Fulton County
KY 94/Carroll St is closed in downtown Hickman due a mudslide near the 12.8mm between Moulton Street and Cumberland Street – Signs and Barricades Posted
KY 94 is closed at the 7 to 11mm in the Lower Bottom "Dip" Area between KY 311 and KY 1099 – Signs and barricades posted
KY 94 has Water Over Road signs posted at the 23-26mm in Willingham Bottom between KY 1907 and KY 1125 east of Cayce
KY 1907/Swamp Root Road is CLOSED at the 0 to 3mm- Entire length
KY 125 is open at the edge of the City of Hickman
KY 2140 is closed near the 3mm due to a culvert washout between KY 94 and KY 1129 – Signs and barricades posted
Roadways are flooded in locations too numerous to list.
Hickman County
U.S. 51 is closed between the 9 and 10mm at the Cane Creek Bridge between KY 1728 and KY 1540 – Signs and Barricades posted with KYTC personnel monitoring
KY 2206/Spring Hill Road has Water Over Road signs posted at the 3 to 4mm south of KY 288
KY 3061/Coon Club Rd has Water Over Road signs posted at the 3 to 4mm in the Brush Creek area and the Whitlock Road intersection
KY 123 is closed between the 14 and 16mm at Obion Creek in the Hailwell Corner Area – Signs and Barricades Posted
Illinois
Visit gettingaroundillinois.com for traveler information in southern Illinois.