MO Gov. Parson cuts ribbon for new job center in Cape Girardeau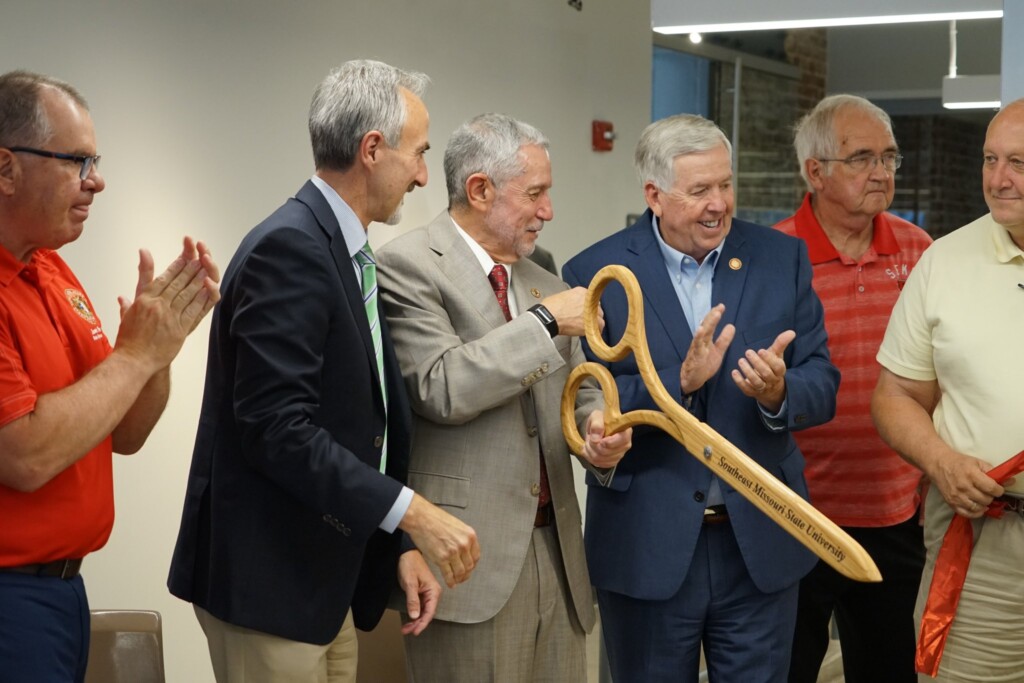 CAPE GIRARDEAU, Mo. (KBSI) – Missouri Governor Mike Parson celebrated a ribbon cutting Thursday in Cape Girardeau.
He joined staff from the Missouri Department of Higher Education & Workforce Development (MDHEWD) and Southeast Missouri State University.
They cut the ribbon to celebrate the opening of the Cape Girardeau Job Center at Catapult Creative House on the SEMO campus.
Governor Parson, MDHEWD Commissioner Dr. Bennett Boggs, and SEMO President Dr. Carlos Vargas spoke during the event.
"We're excited to join our MDHEWD and SEMO partners to open this new job center in southeast Missouri," Governor Parson said ahead of the event. "Our economy is on the move, and businesses are choosing Missouri to grow and invest. With that growth brings countless job opportunities to Missourians across the state, and we want to do everything we can to help any Missourian who needs a job to get a job. This new, innovative job center at SEMO will help us do just that."
The Cape Girardeau Job Center will help higher education students and community members gain employment and grow their careers.
"Opening a Missouri Job Center on the Southeast Missouri State University campus in Cape Girardeau is a great opportunity to help Missourians in that community," Boggs said. "It also connects services to students as they transition from college to employment and provides resources to both students and community members to prosper in the workforce."
The vision for a job center at the Catapult House is for it to look, feel, and operate more like a co-working space that is modern and innovative. The job center will be used for reskilling and upskilling Missouri's workers, providing feedback, collaboration, and assistance to job seekers and creating an inviting space for prospective employers to interact with job seekers.
"We are creating a great opportunity with this innovative partnership," Vargas said. "Southeast will have yet another resource on campus for our students and community, and it will help the region move forward in training and securing a successful workforce. Utilizing this space with a first-of-its-kind partnership with the Missouri Office of Workforce Development is something we are proud to do."
Great to join @MODHEWD & @SEMissouriState to open a new job center in Cape Girardeau.

Our economy is on the move and with that growth brings countless job opportunities. We want to do everything we can to help Missourians who need a job to get a job. pic.twitter.com/2rMURBSASV

— Governor Mike Parson (@GovParsonMO) June 8, 2023