Program offers free healthcare to 9/11 survivors as 20th anniversary approaches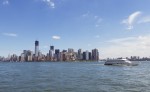 PROVIDENCE, R.I. (WLNE) – The World Trade Center Health Program is offering free healthcare to survivors of 9/11, nearly 20 years after the attacks.
Anyone who was in the city during the attacks qualifies, whether they're suffering mentally or physically.
The World Trade Center Health Program is a federally funded program that only a fraction of survivors have taken advantage of.
"They always suspected that something was wrong and that there was something that really triggered the symptoms. But now to be able to connect it to what happened to them mentally and physically, it is really transforming lives," Frankie Miranda president and CEO of the Hispanic Federation said.
Anyone who qualifies for the program can apply here.