Project Human X resin art workshop a chance to express creativity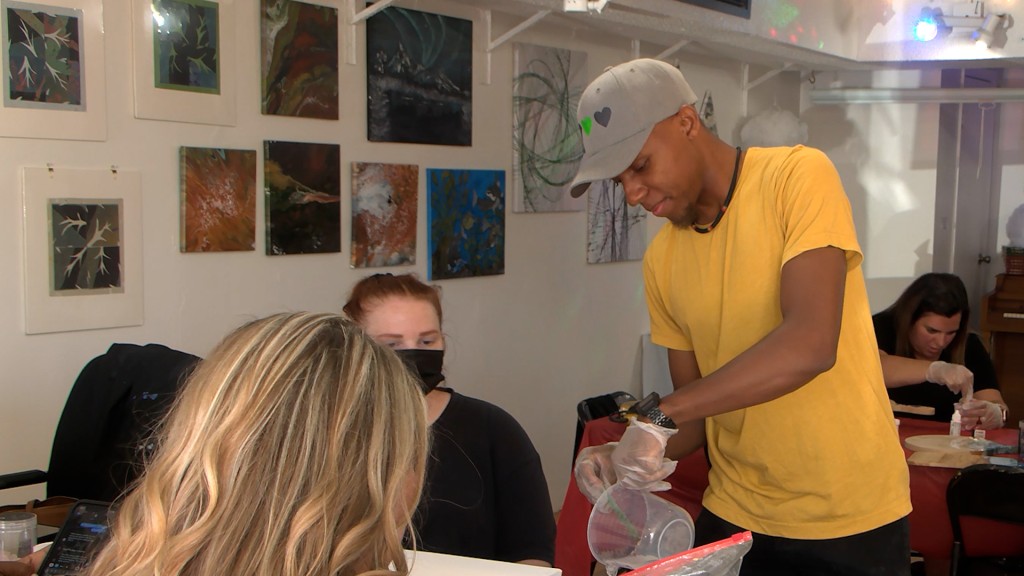 CARBONDALE, Ill. (KBSI) – Perhaps more than any other medium, art allows individuals to express their creativity and open up their imagination. 
And this notion is the vision of Marquez Scoggin, co-founder of Project Human X. 
"That's what I love about these experiences that we offer, is that opportunity to express yourself," Scoggin said. "There's so many ways to do it in art. We just have so many people telling us how healing it is and how joyful it makes them feel after they've accomplished creating a project with us." 
At Project Human X's Freestyle Resin Party, Scoggin allowed participants the creative freedom to, in essence, create whatever they desired using resin and a plethora of other materials. 
"They can create a charcuterie board. They can create some coasters that they can take home with them, a canvas," Scoggin said. "We're just giving people the opportunity to be individuals and tap into their own creativity." 
Art can also be an avenue for staying in the here and now. 
"It's an opportunity to really be in this present moment," Scoggin said. "When making art, you're not really thinking about the past. You're not really thinking about the future. You're thinking about, how can I make this moment beautiful? There's something very peaceful about that." 
Scoggin attended Southern Illinois University and said it's a little extra special that he gets to share these opportunities and moments with his community. 
"It brings me so much joy to see people that wouldn't normally be coming together, coming together and really sharing these peaceful and beautiful moments together," he said. "I'm so thankful to be able to share this space with the community."