Report of erratic driver leads to DIU, meth arrest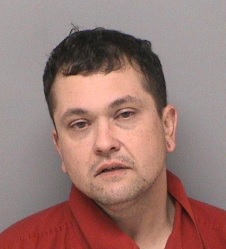 DIX, Ill. (KBSI) – A Montgomery man faces DUI and drug charges after police stopped a vehicle driving erratically in Jefferson County.
Jefferson County Sheriff's deputies responded to the area of Hwy. 37 and E. Beal Road in the rural Dix area to a report of an erratic driver on Friday, May 13.
While responding to the area, a deputy observed a dark blue Cadillac SUV, matching the suspect vehicle description, driving poorly at Hwy 37 and E. Middle Road.
The deputy made a traffic stop.
Anthony K. Mannino, 38, of Montgomery, Ill. faces DUI – Intoxicating Compound, Possession of Methamphetamine 100-400 grams, and Possession of Methamphetamine 100-400 grams With Intent to Deliver charges.
appeared to be intoxicated, according the Jefferson County Sheriff's Office.
Mannino was in possession of a significant amount of methamphetamine, according to the sheriff's office.
Mannino was taken into custody and taken to the Jefferson County Justice Center.
He total bond was set at $78,000 (10%).