SEMO women clip UT Martin behind Tomlin's sharpshooting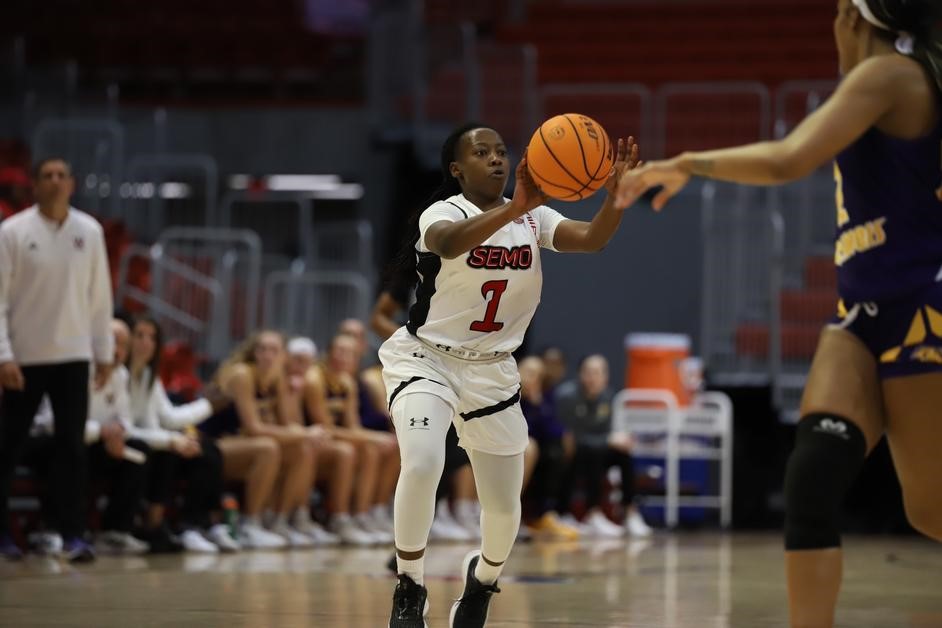 CAPE GIRARDEAU, Mo. – Kori Tomlin made a baseline jumper with less seven-tenths of a second left to send Southeast Missouri (8-10, 3-4) to a thrilling 56-54 comeback win over UT Martin (7-11, 3-4) Thursday night at the Show Me Center.
With the game deadlocked at 54-54 after Rahema Henderson buried a huge 3-pointer with 39 seconds left, Bussard inbounded the ball to Kiyley Flowers on SEMO's final possession.
Flowers passed off to Tomlin who dribbled before pulling up for her game-winning baseline jumper.
SEMO overcame a 12-point (17-5) first quarter deficit and got within five at the start of the final period.
The Redhawks then used an 8-0 run to take the lead. Sophie Bussard scored a fastbreak layup to give SEMO a 45-44 edge with 8:19 to go before adding two free throws to widen the Redhawks lead to 47-44 with a little under seven minutes remaining.
After the Skyhawks regained a 50-49 cushion, Bussard was fouled behind the 3-point line and made two of her three shots to give SEMO a 51-50 advantage at the 3:22 mark.
The see-saw battle continued with UTM taking another lead, this time with the help of three free throws by Seygan Robins to get ahead, 53-51, with 1:19 left.
Anaya Brown then split two free throws and the Skyhawks led, 54-51, before Henderson's game-tying three.
SEMO got a stop defensively and called a 30-second timeout with 7.7 seconds to set up Tomlin's clutch shot.
Tomlin finished with eight points with her only two in the fourth quarter coming on her game-winner.
Bussard paved the way with a game-high 15 points and Henderson followed with 12. Bussard and Henderson each made four field goals and combined to go 8-of-9 at the free throw line. Bussard was 6-of-7 and Henderson made 2-of-2 free throws.
SEMO outrebounded UTM, 29-28, and scored 21 points off 24 Skyhawk turnovers. Defensively, the Redhawk collected 16 steals, its most in an Ohio Valley Conference game this year.
Josie Storey led UTM with 12 points.
The Redhawks, who have won three in a row, are now 7-1 at home in 2022-23.