The Creative Getaway gets head start on holidays with Christmas in July workshop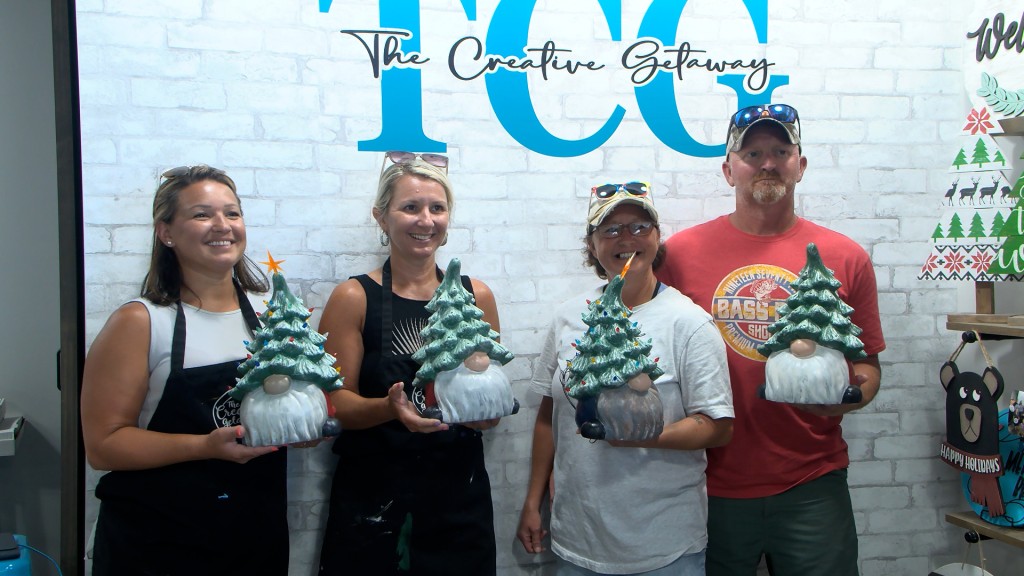 MARION, Ill. (KBSI) – The Creative Getaway hosted a gnome painting workshop on Sunday as part of its Christmas in July celebration.
Norma Spurlock, who led the workshop, said fun is the name of the game at The Creative Getaway.
"We always have a good time here," she said. "People will just come in and do fun events with friends. We had a couple here. We had two girlfriends here, and they always have a good time when they come in. The projects always look different. Even though they're doing the same thing, it always looks different." 
Participants used paints to customize their gnomes then added a glaze finish. Lights were optional but encouraged. 
Spurlock said she gets joy from watching and helping others create their own pieces of art. 
"Watching people have fun and enjoy their day with us, that's what I love about it, and seeing the different projects and how they turn out," she said. "It all looks different. That's just a real joy to see that." 
Spurlock said it is that creative freedom, the ability to take the project in a multitude of directions, that allow people of all artistic abilities to leave with something special.  
"It's a creative, unique experience for everybody that comes in because they get an idea of what they'd like to do," she said. "They look at the wall and get inspiration or they look at the project and get inspiration, and then they do their own thing. And it always, it's amazing how well they turn out." 
The Creative Getaway is also in the midst of its Creative Camp for Kids, which runs through July 28. The studio's next event will be its Wine Down Wednesday on July 27. This event takes place the final Wednesday of every month. Participants of age can enjoy $3 glasses of wine and complete a DIY project.