Update: Two women arrested following attempted robbery at Paducah business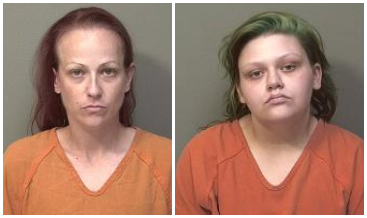 PADUCAH, Ky. (KBSI) – Two women are now in custody following an attempted robbery at the Kentucky Oaks Mall.
Paducah police say the pair were arrested less than 18 hours after they released information to the public.
Latasha Jean Taylor and Marissa L. Hicks were taken into custody by Hopkinsville police officers at 10:50 a.m. on Friday at an apartment complex. The arrest came after someone called the Hopkinsville Police Department after seeing information regarding Taylor and
Hicks in the media.
According to Paducah police,  they were called at about 4:30 p.m. Friday, July 29th after a woman came into the store and handed a cashier a note that said the cashier needed to give the woman cash or a man who was "holding her hostage" would shoot someone.
The woman left the store when officers were called. Multiple officers searched the area but were unable to locate the woman or any evidence to support her story.
Paducah Police say Hicks was with Taylor in a stolen vehicle. Both were staying at a nearby hotel.
Taylor is charged with second-degree robbery while both Taylor and Hicks are charged with possessing a stolen vehicle.
Taylor had been out on bond after being arrested in Tennessee. Hicks was charged in a warrant from Florida for a probation violation.