Southeast MO State closing part of Houck Stadium due to safety concerns
The university released a letter from announces the closing of part of the seating and main press box at the stadium.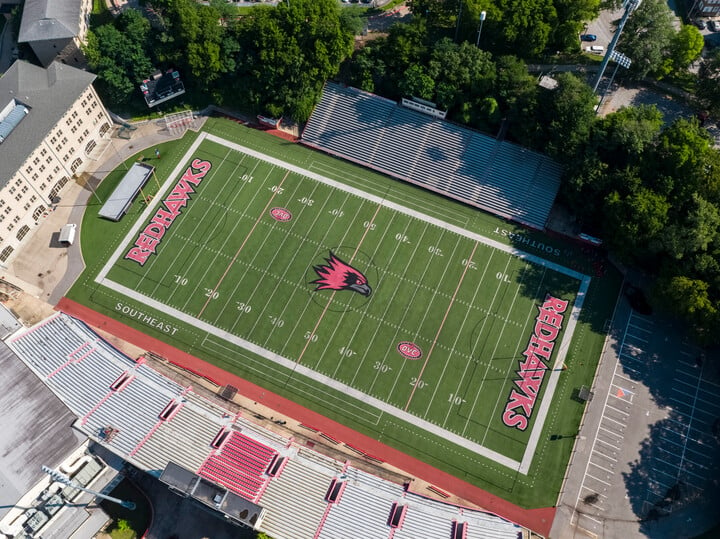 CAPE GIRARDEAU, Mo. (KBSI) – Southeast Missouri State University is closing the South grandstand of Houck Stadium because of safety concerns.
Southeast Missouri opens its 2021 season when it hosts longtime rival Southern Illinois University Thursday night. Kickoff is set for 6:30 p.m. at Houck Field.
The university released a letter from Southeast President Carlos Vargas and Director of Athletics Brady Barke on September 1 announcing the closing of part of the seating and main press box at the stadium.
Houck Stadium turns 91 years old this year. A recent structural assessment revealed deterioration of the concrete structure supporting the stadium's south grandstand has accelerated and caused the university to close that portion of the stadium.
Read the letter from Southeast Missouri President Dr. Carlos Vargas and Director of Athletics Brady Barke.
Dear Southeast Missouri State University community,

Houck Field is one of the most identifiable landmarks in Southeast Missouri. Countless memories have been made at Houck, and the stadium has served us well. For years, fans have filled the stadium to cheer on our Football and Soccer programs. Fans have watched countless victories, celebrated conference championships, and even witnessed history as our Football program won its first-ever NCAA playoff game.

However, for the last several years we have also spoken openly about the failing infrastructure and need for renovation of Houck Field, which turns 91 years old this year. As a result, we have been monitoring the condition of the seating structures and operational areas within the stadium. Prior structural assessments have demonstrated significant deterioration of the concrete bleacher structure of the stadium's south grandstand, making it impractical to believe that structural repairs are feasible.

Unfortunately, a recent structural assessment has revealed the stadium's south grandstand structure has surpassed its original useful life and the rate of deterioration of the concrete structure has accelerated. The safety of our fans is of utmost importance and, as a result, we have made the difficult decision to cease use of the south grandstand and press box area of our stadium. This decision will result in modified game-day operations and reduced spectator capacity for the fall 2021 season. Additional details for fans will be shared in a separate communication.

We now look to the future with a heightened sense of urgency to rebuild this facility. In anticipation of the need to complete a renovation, we contracted with Hollis + Miller, an architecture and design firm, to begin developing conceptual designs for a stadium renovation. Those designs were completed in August 2019 and have served as the focal point of our plans to launch a capital campaign for Athletics. Once complete, a renovated stadium will create a great environment in which our student-athletes will train and compete, a first-rate venue that will attract top quality student-athletes to our university, and a unique game-day atmosphere for you, our fans. A reimagined Houck Field has the ability to bring more fans to this region and signify a stronger, healthier university.

Our work with Hollis + Miller has continued in earnest, and several scenarios they've developed indicate a new structure could be in place by the start of the fall 2022 season. This would be ambitious, and it may include multiple phases. Several questions exist and additional information is needed before we can fully assess how to proceed. That said, we are cautiously optimistic about the opportunity ahead of us. In the weeks ahead we will continue to engage with Hollis + Miller and we will keep you updated.

The rebuilding of the stadium will not be possible without the support of our fans, our alumni, and our community and we ask you to come alongside us as we work to create a lasting future for our university. We need you to see what we see: that an investment in this institution will always be returned many times over and extend far beyond intercollegiate athletics.

Athletics has a storied history of success, both athletically and academically. It is a tradition that runs deep and carries with it a great sense of pride for our university, our alumni, and our community. We are currently experiencing unprecedented success, capped off by the first ever Ohio Valley Conference Commissioner's Cup Award in 2021, and there is no better time to invest in our long-term success.

Thank you for believing in the value of intercollegiate athletics at Southeast Missouri State University and for your continued support.

S-E!

Sincerely,

Carlos Vargas
University President

Brady Barke
Director of Athletics
Gameday Information for Thursday's Season-Opener 
Bellevue Street
The Street Fest tailgate area on Bellevue Street is open to all fans. Inflatables, a Kid Zone and other fun activities are available.
Touchdown Plaza & Field Goal Club
The Touchdown Plaza and Field Goal Club areas will follow normal operating procedures. Only Touchdown Plaza members can enter through the East end zone gate of Houck Field and only Field Goal Club members can enter through the Southwest gate near Merick Hall. Both gates open at 4 p.m.
Handicap Accessible Entrance
The Handicap Accessible entrance is at the East end zone gate (drop off only) off Bellevue Street. General Admission seating for those patrons and guests will be located field level on the Southeast corner.
Redhawks Club Tent
Southeast Missouri's Redhawks Club Hospitality Tent is open for all Redhawks Club members. The Redhawks Club Hospitality Tent is located in the Holcomb Success Center parking lot on Bellevue Street. A DJ will provide live music and entertainment for all to enjoy beginning at 4 p.m.
Redhawk Walk
Thursday's Redhawk Walk will take place at 4:30 p.m. Southeast Missouri's football team will take its pregame stroll through the Bellevue Streetfest before entering Houck Field.
Concessions
Concessions will be sold at three designated locations on the North side of Houck Field. One concession stand will be located at each end of the North Bleachers (East and West side). There will also be a food truck provided by Mary Jane Bourbon + Smokehouse. Additionally, there will be a beer tent stationed on the Northwest side of the stadium. This year marks the first that beer sales will be permitted at Houck Field.
Ticket Information
Online tickets already purchased will be automatically reassigned to seats on the North side grandstand. Any paper tickets that have been purchased and/or distributed will be reassigned to the North grandstand. These can be picked up Thursday at the Athletics Ticket Office (1221 Broadway) from 8 a.m.-3:30 p.m. or at the ticket booth in front of the main entrance to Houck Field starting at 3:45 p.m.
Season ticket holders have been assigned chairback seating in Section L. Please note that all tickets will have an assigned seat (with the exception of SEMO students) on the North side.
The SEMO Student Section will be in Sections O and P. SEMO students can enter the stadium on a first-come, first-serve basis with a valid student ID. Seating and availability are limited.
For more information, contact the Athletics Ticket Office at (573) 651-2113. Fans are encouraged to purchase tickets early because seating and availability are limited.
Entry Points
Spectators will need to enter Houck Field through either of the two North gates. There will be shuttles and golf carts assisting fans with transportation from parking areas to the North entrances.
Touchdown Plaza members may enter through the East end zone gate and Field Goal Club members may enter through the Southwest entrance near Merick Hall. The Handicap Accessible entrance for drop off only is at the East end zone gate off Bellevue Street.
No entry is permitted through any of the main gates on the South side of the stadium.
Gameday Timeline
8 a.m. – Athletics Ticket Office opens
3:45 p.m. – Ticket Booth in front of Houck Field Main Entrance opens
4 p.m. – East End Zone Opens (Touchdown Plaza members only); Bellevue Street Fest, Redhawks Club Hospitality Tent and DJ with live music and entertainment begin
4:30 p.m. – Redhawk Walk
5 p.m. –Gates Open at Houck Field
5:30 p.m. – Food and Beverage Service for Field Goal Club begins
6:20 p.m. – Air Force B-2 Bomber Flyover
6:30 p.m. – "War for the Wheel"