Nominations open for MO Agriculture Awards
As the seven-day COVID-19 positivity rate increased, Southeast Missouri State University announces vaccine incentives for students, faculty and staff.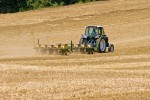 JEFFERSON CITY, Mo. (KBSI) – The Missouri Department of Agriculture is accepting nominations for the Missouri Agriculture Awards until Wednesday, Sept. 15.
The Missouri Agriculture Awards honor five individuals who strive to innovate their farm or ranch, give back to their communities, commit to land stewardship or stand as a great example for future generations.
This is part of the Missouri Governor's Conference on Agriculture in November.
Award categories include:
Missouri Farm Innovation
Missouri Agriculture Education Leader
Missouri Food Animal Veterinarian
Missouri Agriculture Volunteer Award
Missouri Agriculture Communicator
Nominations are due to the Department of Agriculture by Wednesday, Sept. 15.
Completed nomination forms may be submitted in three ways:
through an online form at Agriculture.Mo.Gov/awards
emailed to AgInfo@mda.mo.gov (subject line: Award Nomination)
mailed to

Missouri Department of Agriculture – Awards Nomination
1616 Missouri Blvd., Jefferson City, MO, 65109
Click here for more information and to nominate someone.