Upcoming events in southeast MO, southern IL, western KY
Find fun and educational things to do near you!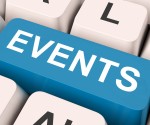 CAPE GIRARDEAU, Mo. (KBSI) – Check out these events happening in the area! Do you have an event going on you would like people to know about? Email news@kbsi23.com. Include what the event is, where and when it is happening and who is sponsoring the event. Don't forget to include if there is a charge.
Thursday, Dec. 2-Saturday, Dec. 4
Southern Illinois University Carbondale hosts its 43rd annual Holiday Craft Sale.
Dec. 2-3
10 a.m. – 5 p.m.
Dec. 4
10 a.m. – 4 p.m.
The sale takes place in the Student Center's Art Gallery and Renaissance Room, located on the first floor.
The sale is free and open to the public. Everyone attending the sale must follow current campus and state pandemic safety protocols and wear masks.
The event will feature a wide variety of creations, including many hand-made and one-of-a-kind items. Featured unique pieces will include ceramics, fibers, glass, wood products, drawings, paintings jewelry, home goods, holiday décor and various other media. About 60 local and regional artisans and craftspeople, including student organizations, are participating.
The Student Center Craft Shop sponsors the sale. For more information, contact the shop at 618-453-3636 or by email at craftshop@siu.edu.
Saturday, Dec. 4
Nature's Winter Decor
Date: Saturday, December 4, 2021
9 a.m. – 4:30 p.m.
Cape Girardeau Nature Center
2289 County Park Drive
Cape Girardeau, MO 63701
Deck the halls with boughs of holly…the holidays are just around the corner and we're in the mood to decorate! We'll use nature's resources to create wonderful winter wreaths, swags, and garlands. You provide a grapevine wreath (you choose the size and shape you want), and we'll provide everything else to do your decorating. Grapevine wreaths can be found online or at local craft stores.
Sessions are 1.5 hours long. Tools will be provided (pruners, pliers and wire cutters). Some gloves will be available but you may want to bring your own leather or garden gloves. You may bring your own tools if you wish. Masks are encouraged and participants will social distance. Each participant will have their own materials and tools to reduce contact. Tap here to register. 
_______________________________________________________________________________
3rd Annual Holiday Bazaar
Saturday, Dec. 4
10 a.m. – 3 p.m.
North Frederick Street between Broadway and Themis
Cape Girardeau, MO
The Old Town Cape Holiday Bazaar will feature vendors that offer locally-grown, handcrafted, and homemade products such as winter produce, baked goods, candies, and artisan crafts. Vendors will also be accepting holiday baking orders and orders for customized gifts. Guests can expect to find their favorite Cape Riverfront Market vendors, as well as new seasonal vendors. While shopping, enjoy music from SEMO's Steel Drum Band! Old Town Cape will have a booth set up with downtown decals and our holiday ornaments, including the 2021 Bridging the Mississippi ornament, for sale.
___________________________________________________________________________________
Kindersongs Music Program
10:30 a.m.
Perryville Branch Library of Riverside Regional Library
Perry Park Center Theatre
800 City Park Drive, Suite A
Perryville, MO
___________________________________________________________________________________
Claus for a Cause
6-8 p.m.
The Glenn House
325 S. Spanish Street
Cape Girardeau, MO
Come for a magical evening of candlelight tours, vendors and Santa! Bring the little ones for pictures with Santa. The event is free, but organizers ask those attending to bring an unopened and unwrapped toy to donate. It will help bring Christmas to many children in the community.
___________________________________________________________________________________
Shiloh Baptist Church in Villa Ridge, Ill. will host a gospel singing on Saturday, Dec. 4. A potluck dinner begins at 6 p.m. The Singing by Gloryroad Travelers of Mounds following after the meal.
___________________________________________________________________________________
Christmas on the Square
Perryville, MO
4-8 p.m.
4-5:30 p.m. – Ornament making & early pics w Santa at Juste Moi Yoga & Spa.
6 p.m. – Light parade starts and the count down to light the big tree in the down town plaza.
6:30-8 p.m. – Choir starts & continue enjoying the evening with complimentary hot chocolate, cookies, & taking pics with Santa!
Sunday, Dec. 5
2021 Christmas Parade in Uptown Jackson
Begins as dusk
Following the parade, the History Center will have a Nativity Extravaganza on display. Santa will be available for photos in the History Center Annex located next door to the History Center on High Street.
---
16th Annual Southern Illinois Alternative Gift Fair
2-5 p.m.
Carbondale Civic Center
Carbondale, IL
Give the greatest gift this holiday season: hope, peace, justice for somebody you care about. The Alternative Gift Fair gives you the opportunity to make your community and your world a better place while choosing gifts that really show you care. There will be several non-profit organizations there. You'll be certain to find gifts that matter.
Thursday, Dec. 9
Women's Impact Network (WIN) Luncheon
Jackson Civic Center
11:30 a.m. – 1 p.m.
Cost: $20
Ticket must be paid in advance of the event. RSVP by December 1. Tap here to purchase a ticket.
Vendors will have an extensive selection of gift ideas starting at 11 a.m. Bring a stocking stuffer for the Jackson R-2 "Hope for Christmas" event.
Friday, Dec. 10
Owl Prowl
Friday, December 10, 2021 7-8:30 p.m.
Cape Girardeau Nature Center
2289 County Park Drive
Cape Girardeau, MO 63701
Calling all owls! Discover the special features of owls with a brief indoor presentation. We will then hit the trail in search of these night-time predators. The trail is not stroller accessible and is rated moderate to difficult with steep hills and loose gravel. Please wear sturdy shoes and dress for the weather as a large portion of the program will take place outdoors. Tap here to register.
Saturday, Dec. 11
The Mary Mingle 5K will start at Mary Janes Smokehouse at 1107 Broadway Street in Cape Girardeau, Mo. Registration is $25 prior to race day and $30 on race day. Awards in the form of Christmas ornaments will be given to the first, second and third place in separate age groups. Cape West Laundry present the Mary Mingle 5K benefitting the Community Counseling Center Foundation. This walker and runner-friendly event supports the Community Counseling Center to restore, bring hope, motivate, and inspire healing to regional mental health clients living with challenges of mental illnesses and mental health disorders in a five-county area. Click here for more information and to register.
---
Winter Birding 101
1-2:30 p.m.
When the leaves fall and the forest appears more open, many of our winter birds are at their easiest to see. While many birds migrate south for the winter, southeast Missouri is alive with our year-round populations and visitors from the snowy north. Join us for a two-part program to learn the basics of spotting, and hearing, some of our more familiar winter birds. The program will begin with a presentation in the auditorium and then move to a roughly 1-mile hike over paved and gravel trails which are at times hilly. You are welcome to attend the auditorium portion only and then view birds from our feeder window or explore our forests on your own if you wish. This program is open to all ages, though the material is most appropriate for ages 10+ This program is just in time to prepare you for participating the in the Christmas Bird Count! Tap here to register.
---
The Gordonville Fire Protection District will host "Responding to Utility Emergencies" on Saturday, Dec. 11 from 8 a.m. to 5 p.m. at the Gordonville Fire Station located at 711 State Hwy. Z in Gordonville. This free training course will educate emergency personnel about the serious hazards and risks they face when responding to electrical and natural gas emergencies. This course is appropriate for all emergency responders, including firefighters, police officers, emergency medical personnel, industry personnel, incident commanders, and emergency response supervisors. Designed by Michael Callan in collaboration with several utility experts, this course is the first experienced-based training curriculum designed with the explicit goals of helping to eliminate unnecessary injuries to personnel responding to utility emergencies. The lead instructor is Robert L. Shramek Jr. Contact BC Tim Bleichroth at 573-382-1553 or email tbleichroth@gmail.com to register for this course.
---
Circle U Bar and Grill
Route K and Route WW
Sedgewickville, MO
Christmas in the Village
3-5:30 p.m.
Tree lighting – 5:30 p.m.
Band plays 8:30 p.m. – 12:30 a.m.
Come out and join Circle U Bar and Grill for the first annual Christmas in the Village! There will be $10 horse and carriage rides, $1 crafts for kids, hot dogs, hot chocolate, Santa and a tree lighting!
---
Beginning Dec. 11
Holiday Home Tour
hosted by Lutheran Family and Children's Services of Missouri
Tickets: $25 each
Each ticket purchase includes a chance to win a beautifully decorated Christmas tree or a gift basket.
This fun-filled, virtual tour will guide you through six festively decorated homes beginning Dec. 11. It also features decorating tips and tricks with Cindy Buchheit of Unique Ambiance.
Visit lfcsmo.org/2021-tour to purchase a ticket or to learn more. Tickets can also be purchased by texting HOMETOUR to 50155 or by visiting Heartland Custom Flooring or Patrick Furniture in Cape Girardeau.
Thursday, Dec. 16 & Friday, Dec. 17
The 17th annual Christmas Country Church Tour is a self-driving tour of 31 churches. From little one-room white clad wooden churches to brick and mortar masterpieces each is unique and special. Join the tour on December 16 & 17, 2021 from 2 p.m. to 9 p.m. both days for this special holiday treasure hunt! Relax, rejoice and remember the reason for the season. Tap here for more information.
Monday, Dec. 13
Riverside Virtual Book Club
7 p.m. via Zoom
The book to discuss if "The Christmas Table" by Donna VanLiere.
Contact Eunice at eschlichting@rrlmo.org or call 573-243-8141 to join.
Saturday, Dec. 18
Saint Francis Healthcare System will recreate the scene of Jesus' birth with its third annual outdoor Live Nativity. Come and experience the true reason for the season on Saturday, December 18, from 5-7 p.m. Follow the Star of Bethlehem to the Saint Francis Cancer Institute (Entrance 6). Volunteers will take on the roles of Mary, Joseph, wise men, shepherds and angels. The event will feature live animals including cows, camels, four-horn sheep and a donkey. Parking is available near the Cancer Institute. In case of inclement weather, event status updates can be seen at sfmc.net or the Saint Francis Healthcare System Facebook page. To learn more about the event, call 573-331-5791.
Saturday, March 5, 2022
The Friends of Saint Francis Gala will be held Saturday, March 5, 2022 and feature live entertainment, dancing, a delicious plated dinner, an open bar, a fabulous live auction and other fun activities!