RECALL ALERT: Banana Boat recalls select products due to cancer causing chemical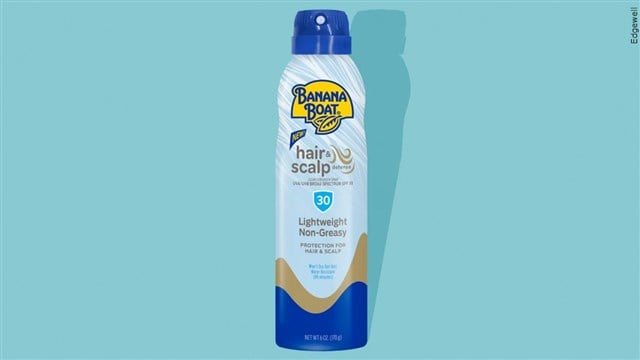 LINCOLN, Neb. (KLKN) – Three batches of Banana Boat sunscreen spray for hair and scalp were recalled nationwide due to trace levels of benzene.
Benzene is a human carcinogen and is not an ingredient in any Banana Boat products but was found in the propellant in the can.
Exposure to benzene occurs by inhalation, orally, and through the skin.  It can result in life-threatening illnesses such as cancers including leukemia, bone marrow cancer and blood disorders.
No other Banana Boat products or hair and scalp sunscreen batches are included in the recall.
The voluntarily recalled sunscreen spray products are packaged in aerosol cans. The products were distributed nationwide in the United States through various retailers and online.
All recalled products will be removed from stores.
Reimbursement will be offered to consumers who have purchased a product marked with one of the following lot codes.
| UPC | DESCRIPTION | Lot Code | Expiration | Size |
| --- | --- | --- | --- | --- |
| 0-79656-04041-8 | Banana Boat Hair & Scalp Spray SPF 30 | 20016AF | December 2022 | 6 oz |
| 0-79656-04041-8 | Banana Boat Hair & Scalp Spray SPF 30 | 20084BF | February 2023 | 6 oz |
| 0-79656-04041-8 | Banana Boat Hair & Scalp Spray SPF 30 | 21139AF | April 2024 | 6 oz |
Lot codes can be found at the bottom of the can.  Consumers should immediately stop using the sunscreen and discard it.
Consumers with questions regarding this recall may contact Edgewell Personal Care at 1-888-686-3988 Monday through Friday, 9:00 a.m. to 6:00 p.m. Eastern Time.
Consumers may also visit www.bananaboat.comExternal Link Disclaimerfor more information and to learn how to receive reimbursement for eligible products.
Adverse reactions or quality problems experienced with the use of this product may be reported to the FDA's MedWatch Adverse Event Reporting program either online, by regular mail or by fax.
Complete and submit the report Online
Regular Mail or Fax: Download form or call 1- 800-332-1088 to request a reporting form, then complete and return to the address on the pre-addressed form, or submit by fax to 1-800-FDA-0178