23 new confirmed COVID-19 cases in Southern Seven region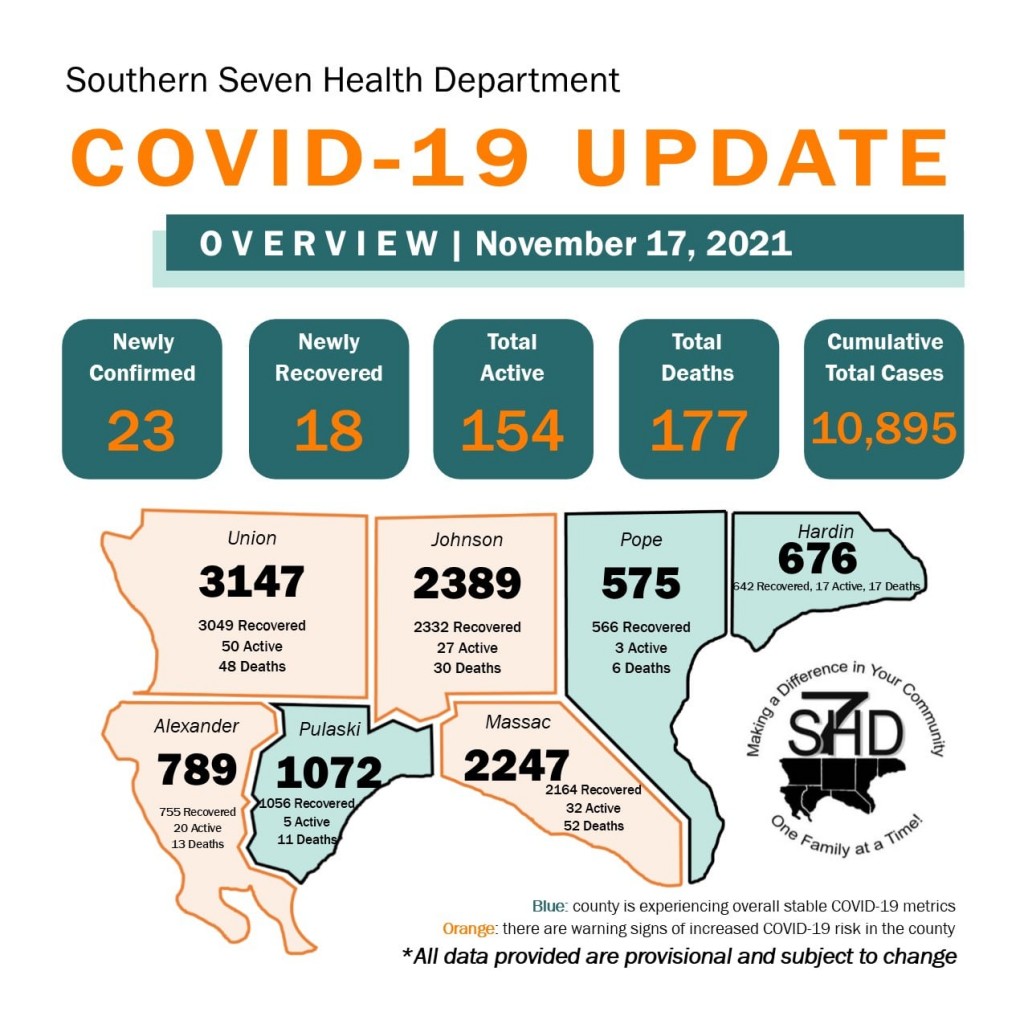 ULLIN, Ill. (KBSI) – The Southern Seven Health Department reports 23 new confirmed cases of COVID-19 in the Southern Seven Region and 18 newly recovered cases.
There have been 177 deaths in the Southern Seven region since the start of the pandemic.
Residents in the seven county region can now schedule themselves for COVID-19 vaccine appointments using the Illinois Department of Public Health's COVID-19 Vaccine Registration system online.
Those wanting assistance with scheduling can call the administrative office at (618) 634-2297. The state of Illinois has also launched a toll-free Vaccine Appointment Call Center open seven days a week from 6 a.m. to midnight at (833) 621-1284.
Southern Seven reminds everyone to continue to follow COVID-19 safety measures in public settings, even after fully vaccinated, to further control the spread of this virus. COVID-19 can be spread up to 48 hours before a person has symptoms. Anyone not fully vaccinated who has been at gatherings where little to no safety measures were in place is at risk of contracting COVID-19 and are asked to watch for symptoms. If you begin to show symptoms, isolate immediately and contact your healthcare provider about getting tested for COVID-19.
Learn more about Phase 5 of Restore Illinois.
Related stories:
Southern Seven Health Dept. reports 2 new deaths, 41 new cases of COVID-19
Southern Seven Health Dept. reports 54 new, 58 recovered cases of COVID-19
Southern seven counties in IL raised to orange warning level for COVID-19 risk, Head Start closed
1 death, 26 new cases of COVID-19 in Southern Seven region
29 new COVID-19 cases in Southern Seven region
2 deaths, 53 confirmed new COVID-19 cases in Southern Seven Region
*The above is a report from Southern Seven Health Department (S7HD) on COVID-19 in the southern seven region. All data are provisional and subject to change. In order to rapidly report COVID-19 information to the public, data are being reported in real-time. Information is constantly being entered into an electronic system and the number of cases and deaths can change as additional information is gathered. Southern Seven Health Department will not release specific information about individuals with COVID-19 beyond their county of residence, gender and age range, unless ordered by the court.