Artic cold front coming Wednesday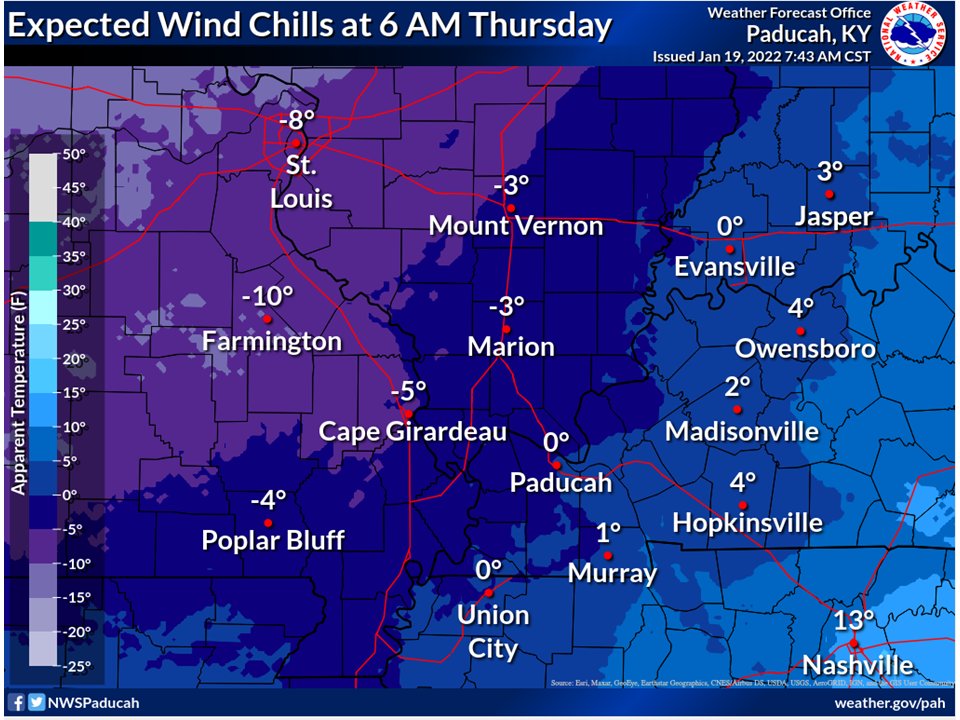 CAPE GIRARDEAU, Mo. (KBSI) – The National Weather Service Paducah warns of an artic blast of winter starting Wednesday.
Some wintry precipitation will come into the area later Wednesday afternoon and evening as much colder air surges south. The artic front will move quickly through the area Wednesday morning.
Rain is expected to develop along and behind the cold front during the day. This should eventually lead to a changeover to a brief wintry mix, and then to all snow, from northwest to southeast during the afternoon and early evening before the precipitation comes to an end.
Some minor accumulations could occur of about an inch or two, especially over much of western Kentucky, far southeast Illinois and along the Ohio River in southwest Indiana.
With temperatures falling fairly quickly to below freezing, there could be some travel impacts, especially on untreated and elevated roadways.
Wind chill values by sunrise Thursday will likely range from 5 below to 5 above zero at most locations. Wind chills may not make it out of the lower to mid teens during the day Thursday. Friday will also be quite cold, though winds will slacken off quite a bit. After morning lows from 10 to 15 degrees, will likely see high temps in the upper 20s to
lower 30s Friday afternoon with plentiful sunshine.
Stay up to date with the weather by bookmarking kbsi23.com/weather.
Its gonna get really COLD! pic.twitter.com/dEgGdOMDAK

— NWS Paducah, KY (@NWSPaducah) January 19, 2022
The Kentucky Transportation Cabinet (KYTC) District 1 Snow and Ice Team is monitoring a forecast for Wednesday afternoon that includes rain followed by frozen precipitation converting to snow as temperatures drop Wednesday night.
The rain during the day will prevent pre-treating by highway crews.
Snow accumulation numbers are expected to range from a trace to about 1/2 inch along the Mississippi River border counties, increasing to about an inch along a line from Paducah to Mayfield. The snow accumulation numbers are expected to increase gradually to about 2 inches by the time it moves on to the Madisonville area.
The KYTC District 1 Snow and Ice Team will continue monitoring the winter system as it approaches to assure that highway crews in Kentucky's 12 westernmost counties are prepared to respond as the timeline and forecast firm up.
Drivers are reminded to carefully monitor the evolving forecast. A variety of winter travel resources are available at snowky.ky.gov.