BBB Tips for buying sports tickets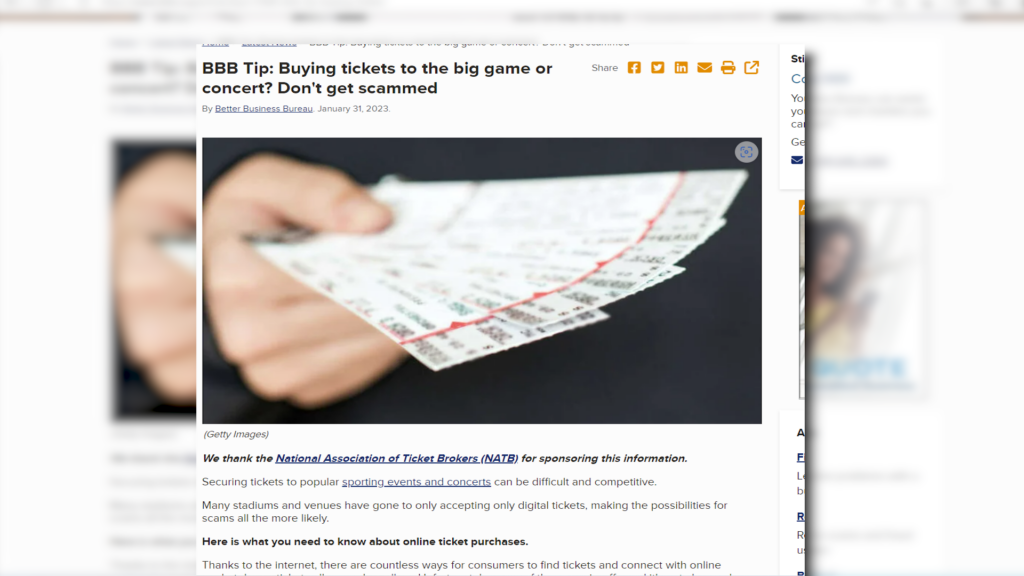 CAPE GIRARDEAU, Mo. (KBSI) – Many professional sports leagues are in their post-season playoffs and many fans along with people just looking for a fun time will be looking for tickets.  
Often during this time, people may run into scammers making and selling fake tickets.  
I spoke with Better Business Bureau regional director Whitney Quick says that, if possible, buy from the venue directly.  
"It's possible it's wise to buy tickets directly from a venue for example on the official Saint Louis Cardinals website for Cardinals tickets," said Quick.  
According to the Better Business Bureau (BBB) last year they received over 140 reports on BBB scam tracker about ticket scams related to sporting events, concerts, theatre, and more. 
"Before you purchased the ticket, the seller should tell you the location of your seats and when and where you're going to receive your tickets. If it sounds too good to be true, it probably is. We do talk about that a lot. If you see any online ticket ads at extremely low prices, use your best judgment. These may be scams, especially if the source isn't well-known. Make sure that you're verifying your tickets and download or print your tickets before you reach the venue because if you just have it on your phone where you have to connect to the internet, typically there's going to be a lot of people and you're probably going to hold up the line a little bit if you're trying to access that information on your phone," said Quick. 
Quick also says before purchasing tickets it's important to really do some research, you can do that by considering the source, there is a difference between professional ticket brokers and a ticket scalper.   
"So, beware of ticket scalpers which are unregulated unlicensed ticket sellers and use caution whenever you buy tickets from somebody that you don't know personally," said Quick.