Jackson R-2 district authors follow-up e-mail to parents
"Alternative meal" now consists of peanut butter sandwich, bottle of water, and a fruit/vegetable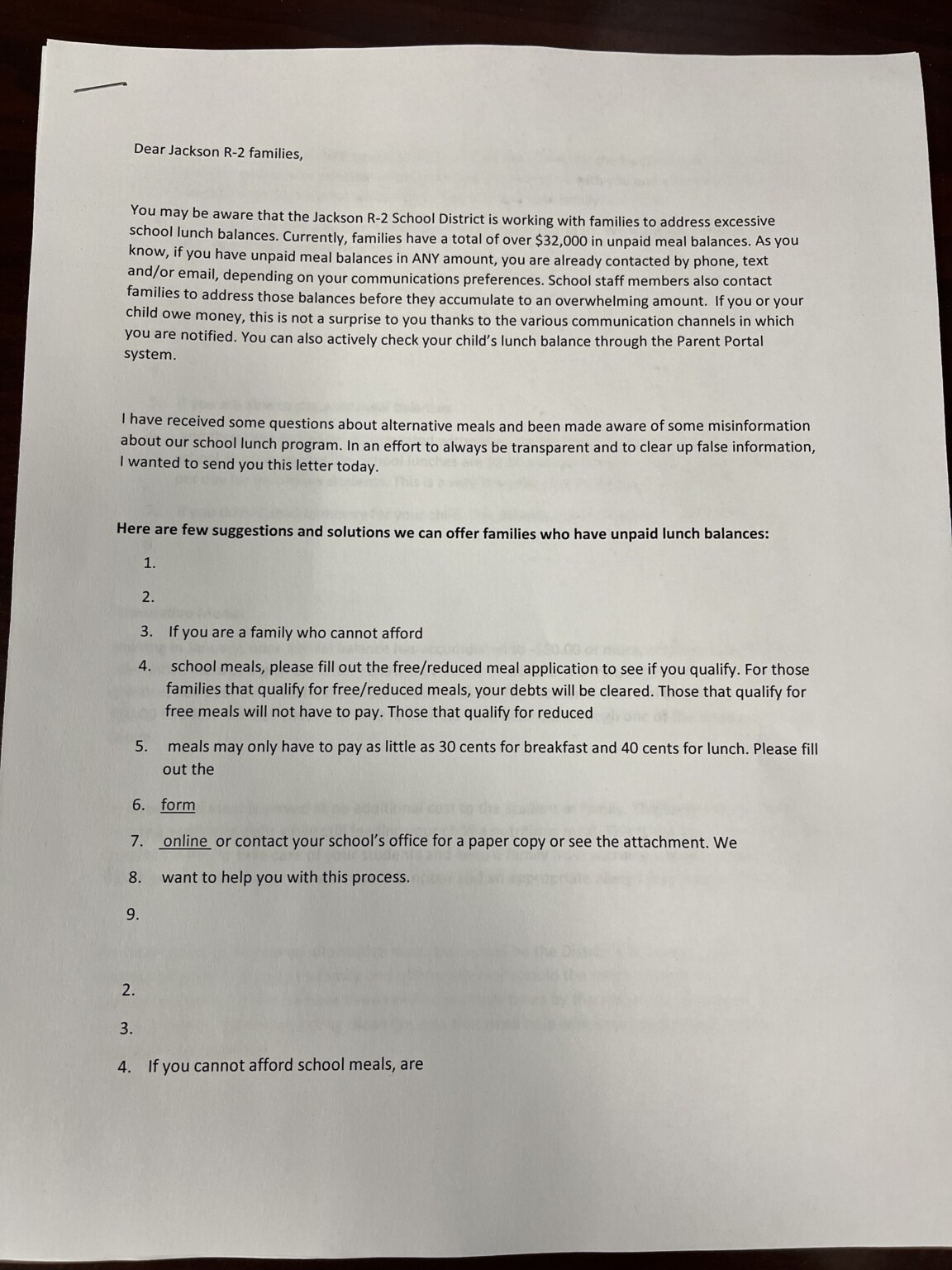 Photo by Tyler Thompson/KBSI
JACKSON, Mo. (KBSI) — The Jackson R-2 district has authored a follow-up e-mail to parents of students who currently face meal account deficits.
Currently, the district has a deficit of at least $32,000, according to a previous KBSI story as well as the original e-mail to district parents, which was distributed last Friday evening.
The district is looking at recouping the aforementioned $32,000, and it commences with families who owe at least $50 on their child's meal account.
Previously, the district had set the benchmark debt amount of $15 and — according to the original email obtained by KBSI –that amount was increased to $50.
"The Jackson R-2 School District raised this to -$50.00 to allow families additional time to address meal balances," the follow-up e-mail read.
The e-mail continued: "An alternative meal is served at no additional cost to the student or family. This helps families from accruing additional cost while still feeding your child a nutritious meal. If your child has a peanut allergy, we will have this noted and and appropriate allergy-free meal will be provided."
Another idea that has surfaced from the district office, after the original e-mail circulated and on the heels of the Dec. 6 story by KBSI, was creating a diversion for the students who are forced the aforementioned sandwich, water, and (now) a fruit/vegetable, is the prevention of singling out any students, which was not included in the original e-mail to parents.
"Students will not be singled out. However, the regular tray will not be an option until the balance is paid," the original e-mail stated.
After all, bullying is yet another growing epidemic throughout the educational realm.
Per the second e-mail: "One possible idea is that the student could be discretely given a lunch box with the alternative meal inside and notified prior that the alternative lunch will be given if no other arrangements were made."
The question remains: From where are the lunch boxes originating and who is covering the cost? The district? The families?