Kentucky drug overdose deaths decline 1st time in 4 years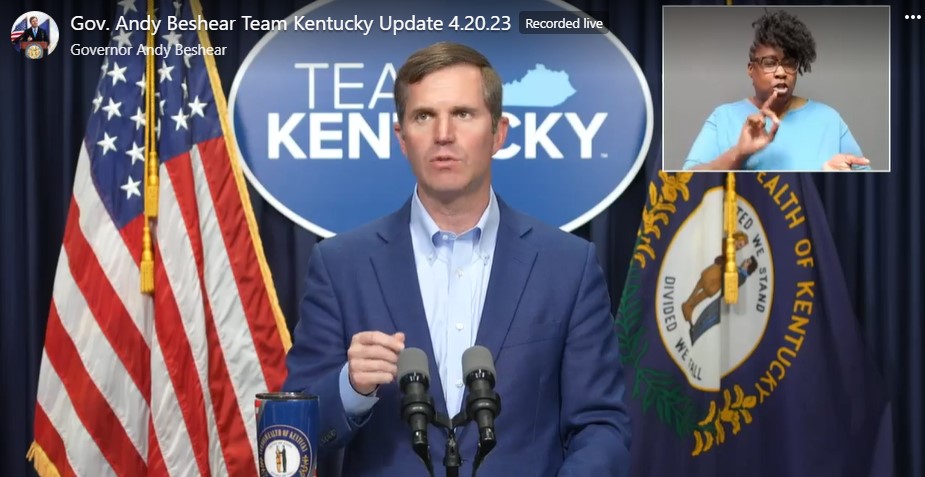 (KBSI) – Kentucky's drug overdose deaths declined in 2022 by 5% compared with 2021, marking the first decline since 2018.
Kentucky Gov. Andy Beshear made that announcement in his Team Kentucky update on Thursday, April 20.
According to the Kentucky Injury Prevention and Research Center (KIPRC), 2,127 Kentuckians died from a drug overdose in 2022 compared with 2,257 in 2021.
"While we find hope in the decline in drug overdose deaths, this remains a public health crisis that we must continue to work together to address," said Gov. Beshear. "We have done a lot of work to help Kentuckians fight addiction, but there is more to do and more lives to save. And I promise to be there every step of the way."
Gov. Beshear signed two pieces of legislation to support ongoing efforts to help Kentuckians fighting addiction on March 24.
The state's Treatment Access Program allows those without health insurance to enter residential treatment. The number of treatment beds has increased 50% during Gov. Beshear's administration, he said.
Dana Quesinberry, co-principal investigator for surveillance of the Kentucky Drug Overdose Data to Action (OD2A) program at KIPRC, joined the Governor for Thursday's announcement.
"I am glad to have good news to share today. Drug overdose deaths in Kentucky have been on the rise for the last four years, with a spike at the start of the world-wide pandemic," said Quesinberry. "The numbers from 2022 show that prevention efforts are working, and we share this news today to continue to inform prevention interventions as we work together across state and local government to address this public health crisis and save lives."
KIPRC has tracked drug overdose-related deaths since 2011. The Office of Drug Control Policy, in partnership with KIPRC, will release the 2022 Kentucky Drug Overdose Report in the coming months. The report will include additional data on the number of drug overdose deaths by county and various demographics.
The Beshear administration is working to provide wider and easier access to recovery, to reduce addiction and to prevent reincarceration to offenders through partnerships across state government, including with the Justice and Public Safety Cabinet, the Cabinet for Health and Family Services and the Kentucky Transportation Cabinet.
The programs will help continue the fight against the drug epidemic while providing help for those who need it.
In September 2022, Gov. Beshear announced nearly $2 million in grant funding from the federal Edward Byrne Memorial Justice Assistance Grant. These funds provide resources for law enforcement agencies and nonprofit agencies throughout Kentucky's 120 counties to enhance public safety and create a better, safer commonwealth for future generations.
During the 2022 legislative session, Gov. Beshear signed Senate Bill 90 into law to provide eligible individuals an alternative to receive treatment for a behavioral health disorder instead of incarceration, expand recovery-ready housing and expand access to treatment for pregnant and parenting people in rural areas.
He took legislative action to help those suffering from an addiction who are not in a position to seek help for themselves. Casey's Law, signed in 2004, has helped more than 6,000 Kentuckians battling addiction by allowing families and loved ones to seek a court order for involuntary treatment for anyone who is fighting addiction and refuses treatment on their own. Gov. Beshear signed House Bill 362 into law in 2022 to expand on the benefit of Casey's Law by permitting the court to determine if an individual should be ordered to undergo treatment for a substance use disorder beyond a reasonable doubt. At this time, the court shall order treatment for a specific amount of time. If the person bfails to undergo treatment, they will be held in contempt of court.
In April 2022, Gov. Beshear and ODCP announced $4.9 million in grants to expand treatment and recovery services to pregnant and parenting people. This funding will help parents recover from opioid addiction and address Neonatal Abstinence Syndrome, a condition caused by an infant going through drug withdrawal.
The Beshear administration is working to reduce addiction and prevent reincarceration through a statewide project that provides transportation at no charge to former inmates so they can access substance-abuse recovery facilities, medical appointments, job interviews, educational courses, probation and parole meetings and employment.
The Department of Corrections is partnering with the Kentucky Transportation Cabinet to serve nearly 50,000 Kentuckians, currently under the supervision of probation or parole, who can use this project.
In September 2021, Gov. Beshear announced the commonwealth launched a new initiative to help employers address addiction, boost hiring and retention and support employees in the workplace.
Call the KY Help Call Center at 833-8KY-HELP (833-859-4357) to speak one-on-one with a specialist who can connect Kentuckians to treatment. Visit findhelpnowky.org to find information about available space in treatment programs and providers based on location, facility type and category of treatment needed.
Tap here to visit Kentucky State Police website to learn about the Angel Initiative. Those suffering from addiction can be paired with a local officer who will assist with locating an appropriate treatment program. The Angel Initiative is completely voluntary, and people will not be arrested or charged with any violations if they agree to participate in treatment.
Tap here to view a video from Gov. Beshear on available treatment and resources, and the importance of knowing how to respond to an overdose.
Kentucky Injury Prevention and Research Center is a unique partnership between the Kentucky Department for Public Health (DPH) and the University of Kentucky's College of Public Health. KIPRC serves both as an academic injury prevention research center and as a bona fide agent of DPH for statewide injury prevention and control.