KY Gov. Beshear celebrates driver licensing regional office in Mayfield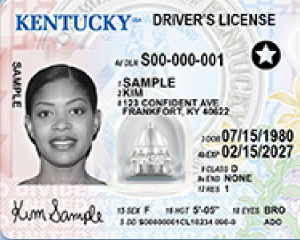 MAYFIELD, Ky. (KBSI) – Kentucky Gov. Andy Beshear cut a ceremonial ribbon to celebrate a new Kentucky Transportation Cabinet (KYTC) Driver Licensing Regional Office in Mayfield on Thursday.
It is a symbol of Mayfield's continuing recovery from the disastrous tornadoes of December 2021.
What began as a temporary "popup" facility with two licensing stations is now a permanent office with five stations. It offers a full suite of licensing services near Mayfield's business district.
KYTC had identified Mayfield as a site for a driver licensing regional office long before the tornadoes.
The cabinet had advertised for office space, and planning was well underway when the worst tornado disaster in Kentucky's history hit.
"Every time I visit Mayfield, I get to see the hard work that's going on to rebuild this wonderful community," Gov. Beshear said. "This morning, we're recognizing another great milestone for Graves County and this region with the ceremonial opening of this new office. Today shows what's possible when we come together to make a difference on the issues that matter most to our families."
"We here in Mayfield are grateful to Gov. Beshear and to Kentucky Secretary of Transportation Jim Gray for the placement of a Driver's Licensing Regional Office in Mayfield," said Mayfield Mayor Kathy O'Nan. "When the Real ID licensure became a reality, many were concerned that it would be difficult to obtain, but with the convenience of this office here, that process is as simple as it has been in the past. We consider ourselves fortunate to have this facility in our community."
The Mayfield office began as an emergency operation to issue replacement licenses and IDs to Kentuckians who had lost those credentials in the storms.
Last August, the office was moved to its current headquarters at 355 Charles Drive in Mayfield.
The Mayfield office processes applications for REAL ID and standard-issue driver's licenses, commercial driver licenses, ID cards and learner permits. It also processes in-person renewals and requests for replacement credentials.
Operating hours are Monday through Friday, 8 a.m. to 4:30 p.m. Appointments can be scheduled online at drive.ky.gov.
The office also serves walk-in customers on a first-come, first-served basis while slots are available.
Kentuckians can "skip a trip" to an office by renewing their present credential online or by mail. Nearly 400,000 Kentuckians have renewed remotely.
Driver testing is conducted by Kentucky State Police and must be completed before a permit or license can be requested. Testing appointments can be made online at kentuckystatepolice.org/driver-testing/.