Look for rust on Eastern Redcedar trees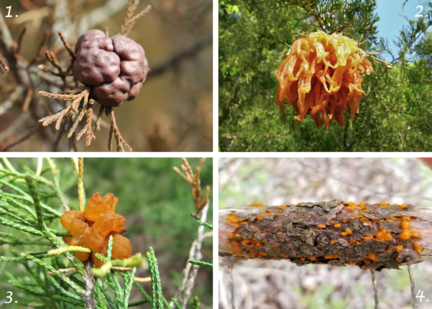 (KBSI) – Recent warm, wet weather means that junipers across Missouri will soon be decorated with these gelatinous ornaments called rust.
This sea urchin-like object hangs in eastern redcedar trees.
Missouri is home to several rust diseases with the most common being those found on eastern redcedar and other junipers. Rust is not the crusty kind you find on a car after a long winter. It is a fungi.
Most rust fungi have a complicated life cycle that involves two host plants. The disease passes back and forth between the hosts via windborne spores, according to the Missouri Department of Conservation.
In Missouri, cedar apple, cedar hawthorn, and cedar quince rusts are all ones you might notice during a spring nature hike.
Symptoms to look for oncand eastern redcedar:
Galls galls covered in orange, jelly-like horns
Bark cracks on the trunk redcedars and limbs oozing orange slime
Cedar rusts are rarely a tree health concern for the native eastern redcedar, according to MDC. Occasionally, cedar rusts that infects the limbs or trunk of eastern redcedars can be more serious for the health of the tree. Where possible, cedar rust infections can be removed by pruning affected limbs, according to MDC.
Cedar apple rust infection of apple trees can cause significant leaf spots and lesions on the foliage and fruit. Fungicide sprays are available for treating apple trees susceptible to rust. However, the timing of sprays is very important for treatment success.