Meet Gage Kellet Lindenwood University archery commit
JACKSON, Mo. (KBSI) – About four years ago, Gage Kellet, got his first bow, and his love for archery began. 
The soon-to-be senior in high school has a lot of skill and talent. Gage was introduced to the sport by his father, Patrick Kellet, who used to practice archery himself in the 90s. Patrick eventually used the sport as a way to bond with his son and get him active.  
"I was more focused on video games and later on he took me to my first bow hunt and on my first bow hunt and I shot my first deer with a bow and I loved it from there," said Kellet. 
He has progressed from not being able to pull a bow back to competing in archery shooters association tournaments. He has dedicated hours to his craft and is always looking for a chance to get better. 
"Every day (after school and work) I come to the house and shoot for an hour or two hours sometimes three hours depending on how I feel," said Kellet.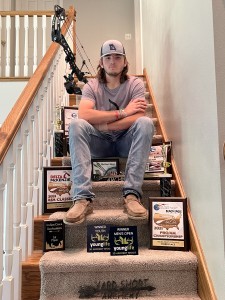 He says he is always asking questions on ways to improve and works with his friends to help each other. That hard work has been paying off.  
In his four years of competing, Gage has won national and state championships in archery, and competes in tournaments for both men and youth. 
His favorite memory is his first tournament. Gage credits this moment as the one that started it all for him, 
"Because of Cullman, Alabama that was like the first weekend I shot good at a big shoot," said Kellet. 
Patrick also used archery as a way to help his son get around people he could trust.  The sport of archery has done just that for Gage. 
Gage says that the people he meets at tournaments he may see once or twice a year but when they are together it's like they have known each other forever.  
Through archery Gage has won championships, met friends, and received opportunities like committing to Lindenwood University.  
With another year until college, Gage is looking forward to his senior year and continuing to work on his craft.