New MU Extension guide offers livestock producers ways to prevent, control black vultures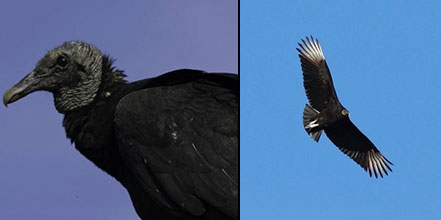 (KBSI) – Missouri's growing population of black vultures has led to increasing attacks on vulnerable livestock.
Black vultures often inflict damage to the eyes and tongues of young livestock. They can kill and feed on domestic fowl and scar animals that survive.
A new MU Extension guide provides information for livestock producers to prevent and control problems with black vultures.
Tap here to find more information on "Controlling Nuisance Black Vultures in Missouri." This resource was developed by MU Extension state wildlife and fisheries specialist Bob Pierce and Travis Guerrant, Wildlife Services state director for Missouri and Iowa at the USDA Animal and Plant Health Inspection Service (USDA APHIS).
The guide details nonlethal damage control techniques. That includes the use of effigies, lasers, pyrotechnics or loud noises to scare vultures, and provides livestock management recommendations such as moving cattle with calves nearer to protected areas.
"Black vultures are legally protected under the Migratory Bird Treaty Act of 1918, so a permit to use lethal control methods is required," Pierce said. The guide also outlines the process for obtaining a permit should it be warranted.
USDA APHIS Wildlife Services is charged with responding to conflicts with migratory species, including black vultures.
Guerrant advises Missouri livestock producers who suffer damage from black vultures to first contact the Wildlife Services state office in Columbia at 573-449-3033, ext. 10, to discuss the problem and/or schedule a site visit for a customized damage management plan.
If warranted, livestock owners who have experienced depredation from black vultures can obtain a permit to use limited lethal measures through Missouri Farm Bureau.
Turkey vultures are also common in Missouri. However, those tend to be less aggressive than black vultures, which are known to gang up and prey on calves, piglets, lambs and newborn goats. Both species are native to Missouri.
Visit extension.missouri.edu for more information on black vulture mitigation tools.