Pop up driver licensing event in Lyon County on July 7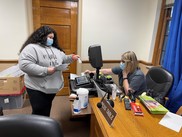 EDDYVILLE, Ky. (KBSI) – The Kentucky Transportation Cabinet is partnering with the Lyon County Public Library to host a Popup Driver Licensing Event on Thursday, July 7.
It is from 9:30 a.m. to noon and 1-3 p.m. at the Lyon County Public Library located at 261 Commerce St, Eddyville, KY 42038.
This event is only for Lyon County residents.
Popup driver licensing for residents who need services exclusively performed in-person at a Driver Licensing Regional Office.
The services include:
Upgrading to a REAL ID license
Requesting an 8-year license if you are due to renew
Updating your name
Renewing your CDL
Appointments are required and must be scheduled on drive.ky.gov. Slots are offered on a first-come, first-served basis. Walk-in appointments are unavailable to ensure cabinet staff can answer questions or review documents of appointment-holders ahead of their scheduled visits. The traveling service currently only accepts payments by credit or debit card, check or money order.
A minimum of two popup visits will be scheduled in every county that does not have a Driver Licensing Regional Office.