SEMO football holds 1st official practice at Cape Girardeau High School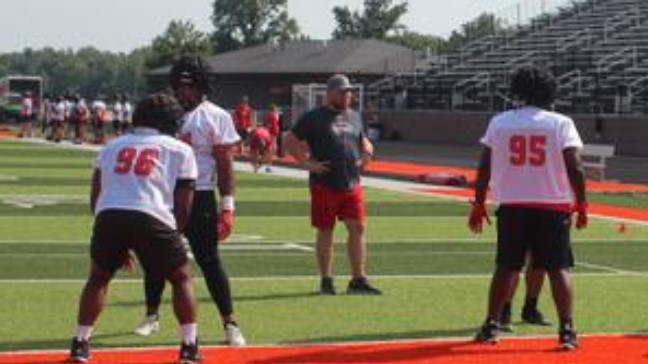 CAPE GIRARDEAU, Mo. (KBSI) – The Southeast Missouri State University football team took to the field for the first time Wednesday afternoon for the team's first official practice.
Due to rain in the area and the finishing touches being put on Phase One of the Houck Project (scheduled to be completed by the start of the season), SEMO moved its first official practice off campus to Cape Central High School.
The Redhawks were chosed as the Big South-OVC Association preseason favorite.
The team will have a series of 26 practices leading up to the season-opener at Football Bowl Subdivision and reigning Big 12 Conference Champion Kansas State on Sept. 2.
SEMO received six of the possible 10 first-place votes in the overall preseason voting by Big South-OVC head coaches. Team won the OVC title and represented the conference in the Football Championship Subdivision Playoffs last season.
The Redhawks carry a 106-man roster which includes 21 seniors, three graduates, 17 juniors, 36 sophomores and 32 freshmen. In terms of talent and experience alone, it is the best roster Head Coach Tom Matukewicz has had in his 10 years at the SEMO helm, according to the university.
Southeast Missouri also placed five players on the 2023 Stats Perform FCS Preseason All-America Teams, presented by FedEx Ground. Offensive lineman Zack Gieg (First-Team), wide receiver Ryan Flournoy (First-Team), defensive back Lawrence Johnson (First-Team), running back Geno Hess (Second-Team) and inside linebacker Bryce Norman (Second-Team) represented the Redhawks.
SEMO has been ranked in three Preseason Top-25 Polls, including Athlon Sports (#9), HERO Sports (#11) and FCS Coaches (#13). The #9 preseason ranking is the Redhawks highest all-time. Those rankings are in large part based on SEMO's strong 2022 finish which saw the Redhawks go 9-3 overall and undefeated in OVC play (first time ever) with a 5-0 mark.
The Redhawks welcome back 14 starters with six on offense and eight on defense.
All-Americans Geno Hess and Lawrence Johnson also return for their sixth season wearing the red and black. Hess is the SEMO's all-time leading rusher with 4,112 yards and 53 touchdowns in his career. He needs 1,038 more yards to become the OVC's all-time career rushing leader.
Hess and Johnson, offensive lineman Zack Gieg, wide receiver Ryan Flournoy and inside linebacker Bryce Norman were named to multiple All-America teams this preseason.
Gieg won the prestigious Rimington Award in 2022, which goes to the top center in FCS Football. He became only the third player in SEMO history to claim the honor.
Flournoy was on the NFL Draft radar a year ago. He decided to return for his senior season at SEMO. Flournoy is the Redhawks top receiver back after catching 61 balls for 984 yards and seven touchdowns during the 2022 campaign.
Norman, of Jackson, Mo. is the Redhawks top returning tackler. He led SEMO in tackles each of his first two seasons at inside linebacker accumulating 119 a season ago.
At quarterback, Paxton DeLaurent is under center for his second season. DeLaurent, named to the Big South-OVC Association Preseason Players to Watch, completed 210-of-344 passes for 2,694 yards and 19 touchdowns in 10 starts his first NCAA Division I season, according to Southeast.
SEMO did lose three starters up front from last year. The Redhawks had the top rushing offense in the OVC and 13th-best in the FCS with 225.6 yards per game in 2022.
On defense, the Redhawks are bolstered by the return of nine players who started six or more games in 2022. SEMO's defense allowed only 29 combined points in the final three games of the regular season. Overall, the Redhawks have eight of their top 10 tacklers back from the 2022 campaign.
On special teams, SEMO has the top kick return and punt return man in the OVC in Dalyn McDonald. McDonald was a First-Team All-OVC pick in 2022. He led the league with 7.3 yards per punt return and 26.1 yards per kick return.
The Redhawks have returning place kicker DC Pippin. Pippin was the team's second-leading scorer behind Hess with 98 points. He made 16-of-24 field goals and did not miss an extra point (50-of-50) last season.
Zach Haynes started as SEMO's punter the last three years. He transferred to New Mexico State. Newcomer Adam Heston is expected to fill that spot. Heston comes to Cape Girardeau from Eastern Michigan where he was the Eagles' holder in 2022.
Single-Game tickets for the 2023 season are on sale. Both single-game and season ticket packages can be purchased online and through the SEMO Athletics Ticket Office. Tap here for ticket prices and information.