Several western KY roads flooded and closed, some back open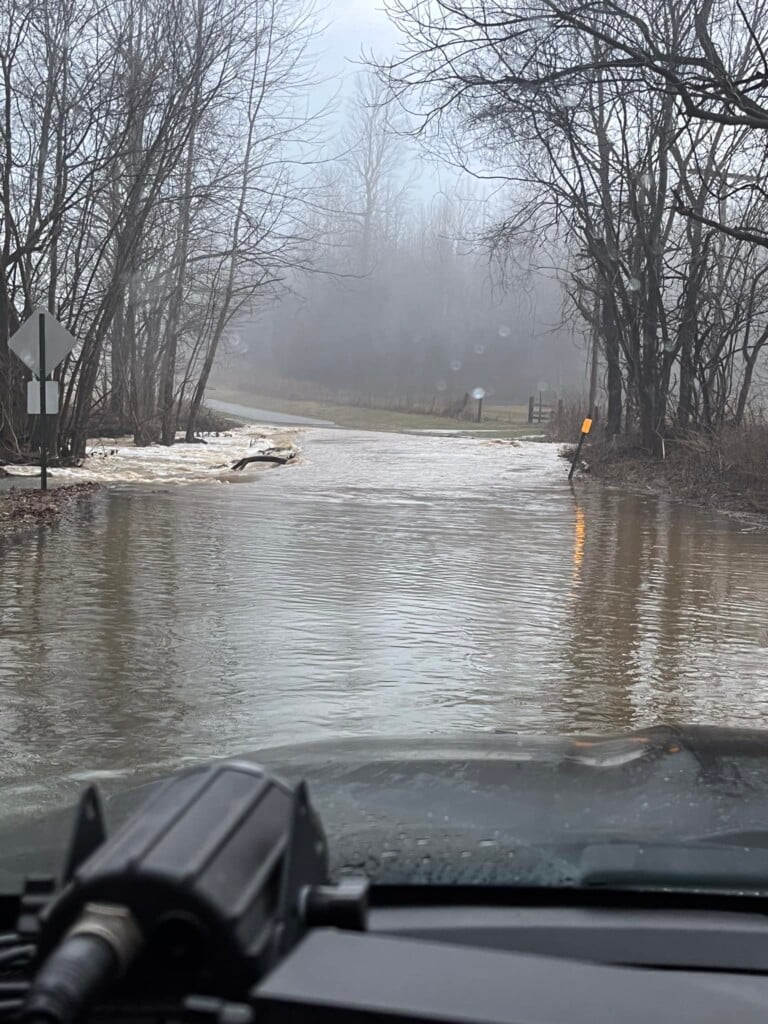 (KBSI) – Kentucky Transportation Cabinet crews in western Kentucky are making rounds Thursday morning placing signage to alert drivers of water over roadways.
With widespread heavy rainfall it is likely water will be an issue at additional locations that have not been reported, according to KYTC.
Caldwell County
KY 91 is closed from KY 139 KY 70 between Princeton and Fredonia
High water signs posted on KY 91 at mm 7.1
KY 293 – high water signs posted at mm 1.8
Carlisle County
U.S. 62 has Water Over Road signs posted at the 4 to 5mm in West Fork Creek Bottoms west of the KY 121 4-Way Stop – KYTC personnel monitoring
Crittenden County
KY 855 is closed at the 5mm North of Frances between KY 70 and U.S. 60 – signs posted
KY 902 is closed at the 5mm in the Dry Fork Creek area near the Crittenden-Caldwell County Line between Dycusburg and Fredonia – signs posted
Livingston County
U.S. 60 is OPEN between Blue Ridge Road and the High School just west of Smithland at the 10.8 to 11.5mm
KY 453 is OPEN from the S Curves at the 13mm to the South edge of Smithland at 15mm, including the Coons Chapel Road intersection
KY 453/Iuka Rd is OPEN near the 9mm between Newbern Road and Friendship Baptist Church
KY 133/Lola Rd is OPEN at the 6.5 to 7mm near Lick Skillet Rd Between Lola and Salem
KY 1433/Cedar Grove Road is OPEN at the 4 to 5mm between Head Road and Lemon Landing Road
Lyon County
KY 1943 is closed at the 3.4mm at the Skinframe Creek Bridge – signs posted
McCracken County
KY 348/Hardmoney Road is OPEN near the Camp Creek Bridge just north of the KY 1648 intersection at Hardmoney near the 6.1mm – signs posted
KY 1954/Husbands Road is OPEN at the 2.8mm near the floodwall just south of Clarkline Road
KY 1954/Husbands Road is OPEN at the 2mm just south of the KY 999/Krebs Station Road intersection – signs posted
KY 1255/Bonds Road is closed at the 2 to 3mm just west of KY 450/Oaks Road
Marshall County
KY 1949/Wadesboro the 7.3mm at Smith Creek Bridge near the I-69 Tunnel
Radar indicates another round of thundershowers heading to the area. It is likely this list will grow through Thursday morning, according to KYTC.
Be aware of permanent "Road May Flood" signs at locations where flooding is likely.
As little as 6 inches of running water can push a vehicle off the roadway.
If you encounter a roadway that is flooded, take note of the specific location using a crossroad, mile marker, street address, or other nearby landmark and report it immediately to your local 911 call center.
Related story:
Road work, closures in southeast MO, southern IL, western KY