Southeast Missouri State University ranked No. 4 in Military Friendly Top 10 Schools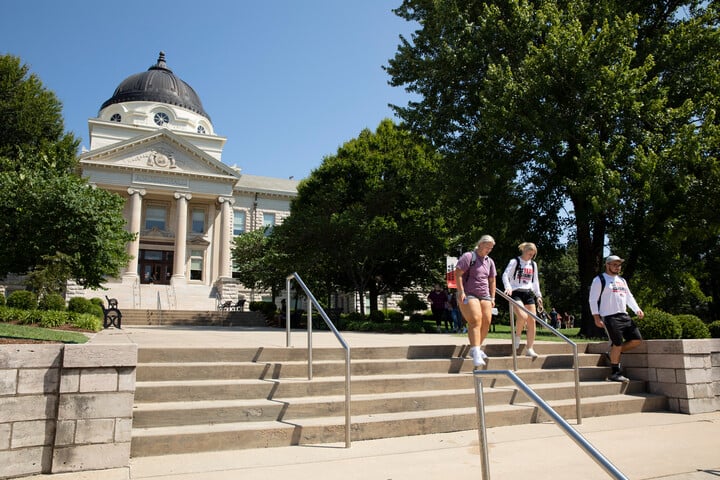 CAPE GIRARDEAU, Mo. (KBSI) – Southeast Missouri State University is ranked No. 4 in the 2023-2024 Military Friendly Top 10 Schools.
The designation recognizes the university's commitment to increase and continuously improve policies and procedures that benefit veterans and students.
Southeast moved up in rankings from last year's list. Southeast has been a Gold category school for the last two years and has moved into the Top Ten.
The Military Friendly Top 10 Schools represents the elite target for military and veteran programs and initiatives in higher education. Schools on the list exemplify support for veterans and their families and continue to improve their programs every year.
"This award highlights the dedication that Southeast and its Office of Military and Veteran Services has toward supporting our military-affiliated students," said Dr. Carlos Vargas, president of Southeast Missouri State University. "The entire University goes above and beyond to ensure our students are supported throughout their education and after they move on from Southeast to successful careers."
Schools are evaluated with both public data sources and responses from a survey completed by the university. Survey responses are weighted according to six categories:
academic policies and compliance
military student support and retention
graduation and career outcomes
admissions and orientation
culture and commitment
financial aid and loan repayment
Schools are placed into one of four categories: Bronze, Silver, Gold, and the elite category of Top 10.
Nearly 2,000 schools are surveryed each year.
"We have continued to improve on our Military Friendly ranking every year, first being a Gold school and now making the Top Ten," said Amanda Woods, Military and Veterans Services Officer with Southeast's Office of Military and Veteran Services (OMVS). "The continuous improvement shows the effort that has been made by everyone on campus to keep making our University a great place for our military-affiliated students.
Tap here to view the 2023-2024 Military Friendly® Schools list.
The Office of Military and Veteran Services at Southeast helps align military-affiliated students with campus resources and refers veteran students to various veterans service organizations in the area and other external organizations that may be able to provide additional support.
The office also researches and advocates for opportunities to implement veteran-friendly policies, procedures, processes, events and support services. The office also hosts events and workshops for service members, veterans and their dependents. It assists in the research and development of grant applications and other external funding proposals related to veterans initiatives.