Traffic stop leads to drug arrest in New Concord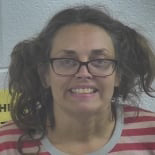 NEW CONCORD, Ky. (KBSI) – A New Concord woman faces drug and traffic charges after suspected methamphetamine was found in her vehicle during a traffic stop.
Wendy L. Jarvis, 43, faces first degree possession of a controlled substance (methamphetamine) and various traffic related offenses after a deputy sheriff stopped her vehicle on Hwy. 121 south in New Concord on Sunday around 2 a.m.
During the stop, suspected methamphetamine was located in the vehicle, according to the Calloway County Sheriff's Office.
At the time of her arrest, Jarvis was out on bond for a pending April 2022 felony case. Jarvis was taken to the Calloway County Jail.