"We just feel incredibly blessed" – Toddler recovers from rare complication of COVID-19
Two-year-old Campbell Sheridan was hospitalized for eight days with COVID-induced rhabdomyolysis, a rare complication that can damage the heart and kidneys.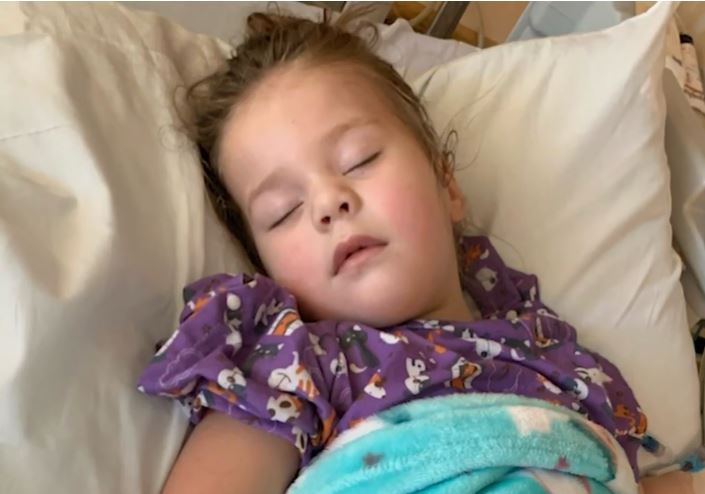 LINCOLN, Neb. (KLKN) – If you took one look at 2-year-old Campbell Sheridan, you would have no reason to believe that she was anything other than your typical two-year-old girl.
Described by her mother Stacy as "incredibly spunky," Campbell spent her Friday afternoon playing magnetic blocks with her mom and 5-year-old sister Collins, as her father Frank looked on, holding 3-month-old baby Marlo on the couch.
Just days earlier, Campbell was dispatched from the hospital after battling a rare, but serious complication of COVID-19.
Stacy says Campbell was first diagnosed with COVID on Monday, January 17. Throughout the week, Campbell had mild symptoms: low-grade fevers, mild cough, certainly nothing to suggest something was seriously wrong.
However, the following Sunday, Campbell started complaining of leg pain.
"She couldn't walk at all," Stacy remembers. "Even touching her leg, she would cry in pain."
Despite her daughter's discomfort, Stacy, who works as a registered nurse, says she didn't think much of it at the time.
"I thought maybe this is just normal aches and pains with COVID, maybe she's having growing pains," she said. "We never anticipated that when we got there and got labs and stuff running that this is what we would be working with."
Stacy took her daughter to their health care provider only to find out that one of Campbell's enzymes was elevated and was showing extreme muscle breakdown from inflammation – presumably from the COVID infection.
Campbell was admitted to Bryan East that night.
"She was extremely dehydrated, she hadn't peed in like 16 hours," Stacy recalls.
Doctors found that Campbell had rhabdomyolysis, also referred to as rhabdo, a serious medical condition that occurs when damaged muscle tissue releases toxins into the blood, which can damage the heart and kidneys and cause permanent disability or even death.
Perhaps even more concerning was the fact that there were only three documented cases of COVID causing rhabdo in kids.
"That was definitely the scariest part, that this wasn't something that they've seen," Stacy said.
Campbell was rushed to Children's Hospital in Omaha after an orthopedic surgeon expressed concern about the integrity of Campbell's legs.
Stacy says the surgeon was concerned that Campbell was developing compartment syndrome, a dangerous condition where the swelling of tissues compromise blood flow.
In severe cases, compartment syndrome requires emergency surgery.
"We had no idea if there'd be long term effects, if she would need dialysis, if she would need surgery," Stacy said.
Campbell was put through aggressive IV hydration. In total, she spent eight nights in the hospital.
Stacy says she started to see her daughter turn the corner after day 5 or 6. Campbell was ultimately discharged on January 31.
'They tell you kids are super resilient with illnesses and injuries, and it's true," Stacy said. "Once she kind of rounded that corner, she just took off, and she's basically back to normal."
Stacy says she's not entirely sure how Campbell got COVID. Aside from being a little weak going up and down stairs, the two-year-old is basically back to normal.
Stacy hopes her family's story can help others recognize signs and symptoms of COVID early so they don't have to experience what Campbell did.
"COVID is an intelligent disease and it sometimes doesn't give us rhyme or reason who it decides to pick on, so I think that it just really put into perspective that it's not something to mess around with," she said.
The family does not expect there will be any long term impacts from the illness.
"Being on the other side of it, we just feel incredibly blessed," Stacy said.