Dozens protest P&G vaccine recommendations in Cape Girardeau County, P&G responds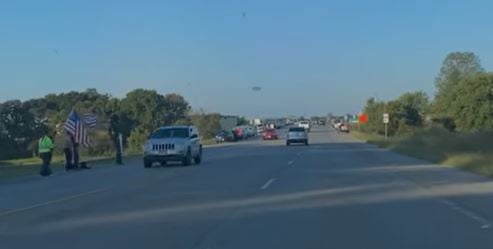 FRUITLAND, Mo. (KBSI) – Several dozen people protested a vaccine recommendations at Procter & Gamble in Fruitland on Monday.
People held signs along the road leading to Procter & Gamble protesting a requirement by the company that employees get vaccinated for COVID-19 or undergo weekly testing for COVID-19.
The company's policy states, "In compliance with the anticipated standard from the Department of Labor's Occupational Safety and Health Administration (OSHA), P&G will require all U.S.-based employees to either (1) provide proof of COVID vaccination, (2) have a company-approved vaccine exemption in place, or (3) begin providing weekly COVID test results, effective November 1, 2021."
Holt Horrell works at P&G and just got done with a shift when he took this video. He says employees are already wearing masks or face termination.
Proctor & Gamble released this statement in regards to the protest on Monday.
"We are aware of this morning's activity near US-61 and MO-177. While the company strongly recommends vaccination, we respect the choices of our employees and have provided the option to provide weekly test results or have an approved exemption in place instead of vaccination. Leaders at our Cape Girardeau plant are offering listening sessions this week, so voices of employees are heard and understood."
If employees do not get a COVID-19 vaccine, they do have alternative choices such as having a company-approved exemption in place or weekly testing for COVID.
Since the onset of the pandemic, employees working at P&G sites have been wearing masks. They have instituted strict social distancing protocols and temperature screenings for everyone entering, and have significantly increased the frequency and rigor of cleaning schedules, according to P&G.