First ever Career & Technical Education showcase held at capitol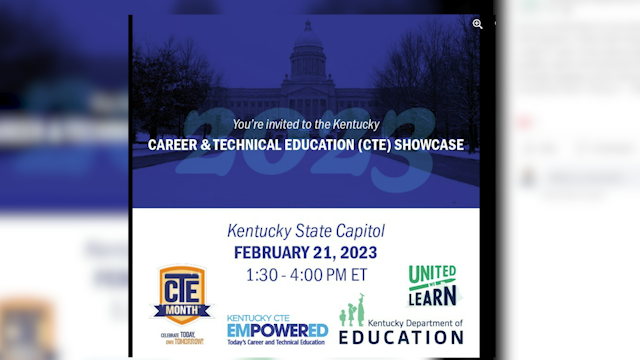 KENTUCKY (KBSI)- Tomorrow will be an opportunity for students across the commonwealth of Kentucky to show off their skills. The event is from 1:30 to 4 pm at Kentucky's state capitol. 
The first-ever Career and Technical Education Showcase will be tomorrow along with the annual Career and Technical Student Organization Leadership Day.  
Students will be able to demonstrate some of the many careers and technical skills they learn such as graphic design and health science.  
During the event, Kentucky Governor Andy Beshear will sign a proclamation naming February Career and Education month in Kentucky.  
Regan Satterwhite, an executive advisor of – the office of Career & Technical Education, says the department of education received elementary and secondary school emergency relief funding (ESSER) to combat learning loss due to COVID-19.  
Satterwhite says this showcase is to help spread the message on the career and technical fields all over the commonwealth.  
"This funding allowed us to kind of combat that and to spread the message about career and technical education; we really have a wonderful career in the technical education system in Kentucky; we have over 135 state-approved pathways so we have 13 CTE program areas; 71% of Kentucky students are enrolled in career and technical education so this event is going to be the best opportunity that's ever been provided in one place to see the awesome things that are going on in all of our schools across the Commonwealth," said Satterwhite. 
For those who can't make this event, the showcase will continue Friday, Feb. 24, at the Kentucky school board annual conference, which will be held at Galt House hotel in Louisville from 11 am to 3 pm.