Governor Parsons announces new phase in Missouri COVID-19 recovery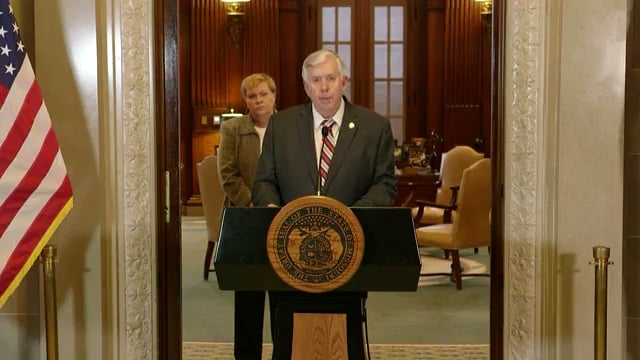 JEFFERSON CITY, Mo. (KBSI) – Missouri Governor Mike Parson announced an end to the COVID-19 crisis in Missouri during a press conference at the state capitol Wednesday. The state will now move into an endemic phase, effective April 1.
As part of this new phase, the state will begin responding to COVID-19 like other viruses. Also, universal contact tracing and individual case investigations will be discontinued.
"Thanks to our balanced approach and common sense, we believe the need for COVID-19 crisis response has come to an end," Parson said. "The COVID-19 crisis is over here in the state of Missouri."
COVID-19 transmission in Missouri is at its lowest level since March 23, 2020. Parson reminded Missourians that just because they are entering this new phase does not mean that COVID-19 will cease to exist.
"This does not mean that COVID is no longer present or that future spikes in cases will not occur," he said. "However, from the knowledge we have gained and the tools we have acquired over the last two years, the threat this virus poses has significantly diminished.
"There will likely be new variants and outbreaks in the future. But this new endemic phase allows us to continue to adapt as needed."
Department of Health and Senior Services Acting Director Paula Nickelson assured Missouri citizens that work will not stop in continuing to help those affected by COVID-19.
"We will continue to monitor, provide pertinent information, and collectively work to protect our most vulnerable citizens," she said. "Missourians should feel confident that we will remain vigilant when monitoring COVID-19 levels throughout the state."
Parson said the fortitude Missourians have shown that has helped the state enter this new phase.
"Over the past two years, the people of Missouri have adjusted," he said. "They have adapted, and they have prevailed. We have emerged out from under this cloud of COVID-19 with a renewed spirit that is stronger than ever before.
"This success could not have been possible without the thousands of doctors, nurses, healthcare workers, and emergency management professionals who answered the call, as well as the frontline workers and thousands of others who stayed the course. They worked day in, day out to keep operations running smoothly and save lives. For that, we will always be thankful."