Graves County sheriff asks for public's help finding stolen truck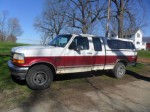 GRAVES COUNTY, Ky. (KBSI) – Graves County Sheriff Jon Hayden asks for the public's help finding a stolen pickup truck.
Sometime overnight on Monday, Nov. 21, someone stole a 1994 Ford F150 4X2 pickup truck from the Water Valley area.
The truck is white on top and bottom and red in middle. The truck also has a camper shell that is white in color.
The vehicle was taken from a farm off of Ky. Hwy. 94 West near Kingston Road in southern Graves County.
Anyone who may have any information is asked to contact the Graves County Sheriff's Office at (270) 247-4501.
The photo is not the exact vehicle but a file photo.