Greek Games kick off Southeast Missouri State's Greek Week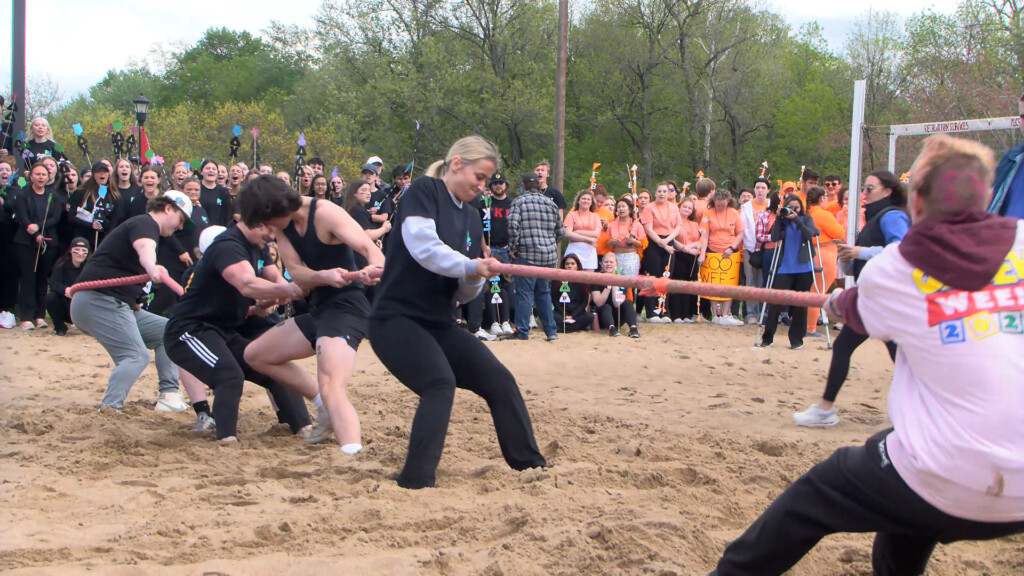 CAPE GIRARDEAU, Mo. (KBSI) – With competitions like chariot races, a wing eating contest, and tug-of-war, the Greek Games get Southeast Missouri State's Greek Week started with a bang. 
Alpha Delta Pi Greek Week Chair Addison McMahan had a message for her chapter before the games. 
"All the spirit really gets us going. We're all yelling the whole time. I told my chapter today, 'If you still have your voice by the end of today, you're doing it wrong,'" she said.
The pairing of the Alpha Chi Omega sorority and Sigma Nu fraternity beat out six other teams to win the games, and Alpha Chi Omega Greek Week Chair Yen Nguyen said Sunday's win was a great kickstart to the week. 
"Winning today was such a high," she said. "It was so incredible for us, and we're just getting started." 
Of course, the Greek Games and Greek Week as a whole are meant to be fun, but they are about much more than that. Each chapter is partnered with a charity, and the events throughout the week support and raise awareness for several causes. 
Greek Week Director Joey Curvey said there is a palpable buzz around this week. 
"That's the reason why I think we're all super excited because we know we're giving back to our community and our campus," he said. "It's all engagement. It's supposed to be fun, like we're trying to make it fun because it is fun. We're trying to literally give back to the people that we care about the most, so that's why I love Greek Week" 
The Greek Games are just the beginning. Greek Week continues tomorrow with a canned food drive at 9 am.
Below is the full list of Greek Week events:
April 17: Canned Food Drive (Redhawk Food Pantry, 9 am-3:45 pm)
April 18: Walk-A-Mile (Academic Hall, 5:45 pm following Greek Connections)
April 19: Shiver and Slide (Lower Parker Field, noon-1:30 pm)
April 20: Clothing Drive (University Center Terrace Room, 9 am-3 pm)
April 22: Greek Sing (Academic Hall, 5 pm)