Herrin man accused of motor vehicle theft, found hiding from authorities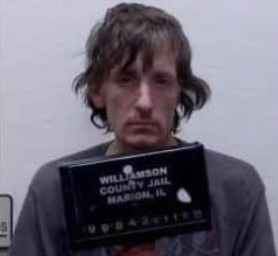 WILLIAMSON COUNTY, Ill. (KBSI) – A Herrin man faces several charges after authorities say he stole a vehicle and hid from sheriff"s deputies.
Christopher D. Gravett faces charges of motor vehicle theft, resisting a peace officer, criminal damage to property and criminal trespass to land.
Williamson County sheriff's deputies responded to a home on Chittyville Road on January 13 where deputies had previously taken a report of a stolen vehicle.
Deputies found the suspect had previously stolen a vehicle from the home, had returned and was hiding, according to the Williamson County Sheriff's Office.
Gravett was found hiding under a large pile of items in a room of the home. He refused deputies' order to come out and begain resisting arrest, so a Taser was used, according to the sheriff's office.
Anyone with information about this investigation is asked to call the Williamson County Sheriff's Office at 618-997-6541 or Williamson County Crime Stoppers at 800-414-TIPS (8477). All callers may remain anonymous.