Increase in COVID-19 cases in Cape Girardeau Co., U.S. officials recommend booster shots
Public health and medical experts and the US. Dept. of HHS plan to offer COVID-19 vaccination booster shots.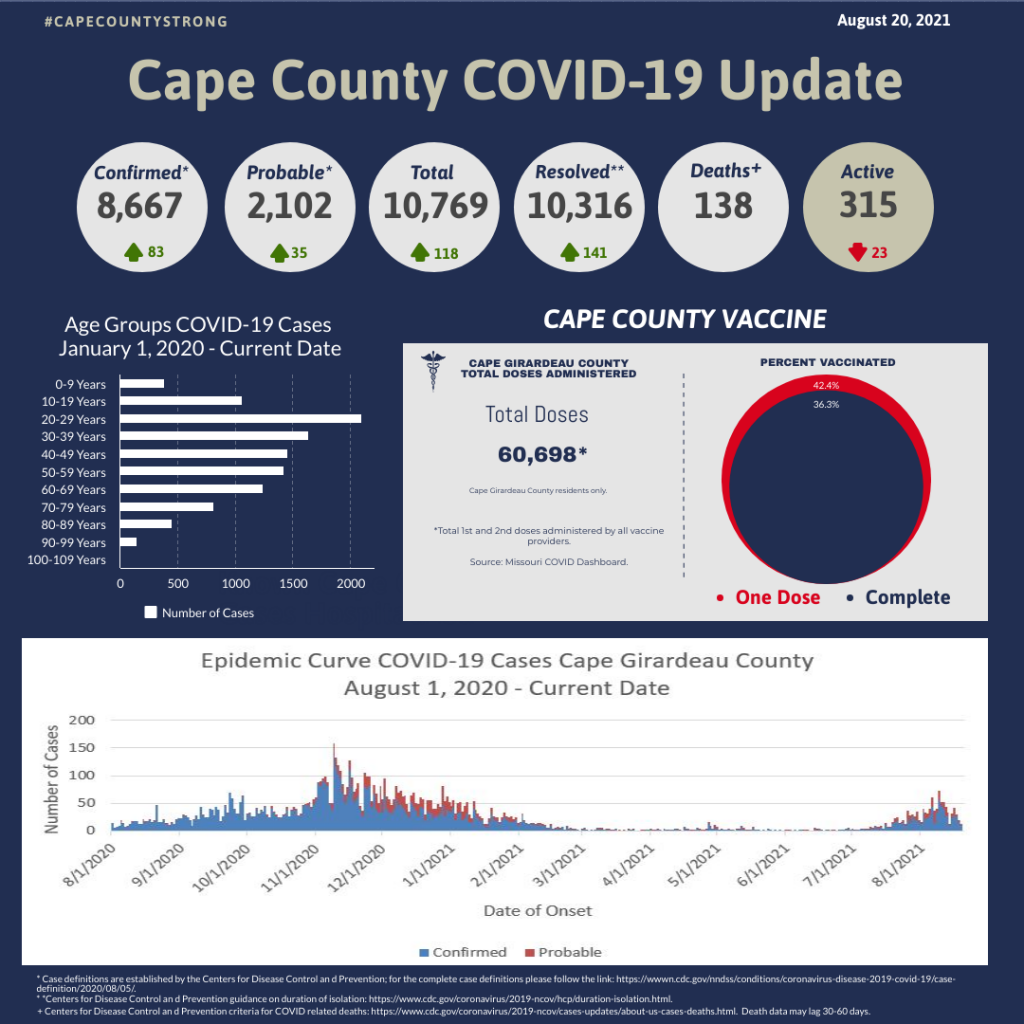 CAPE GIRARDEAU, Mo. (KBSI) – The Cape Girardeau County Public Health Center reports another increase in COVID-19 cases.
Total cases were up 118 to 8,667 in a report released Friday afternoon. Probable cases are up 35 to 2,102. Deaths remain at 138.
The seven day positivity rate in Cape Girardeau County is 16.2%. Confirmed cases are up 90 in Cape Girardeau County to 8,584. Probable cases are up 26 to 2,067, Total cases are up 135 to 10,175. Deaths remain at 138.
On Aug. 18, public health and medical experts and U.S. Department of Health and Human Services (HHS) released a statement about the Administration's plan for COVID-19 booster shots for the American people.
U.S. Department of HHS officials say they are prepared to offer booster shots for all Americans beginning the week of September 20 and starting 8 months after an individual's second dose. Individuals who were fully vaccinated earliest in the vaccination rollout, including many health care providers, nursing home residents, and other seniors, will likely be eligible for a booster. They would also begin efforts to deliver booster shots directly to residents of long-term care facilities at that time, given the distribution of vaccines to this population early in the vaccine rollout and the continued increased risk that COVID-19 poses to them.
SoutheastHEALTH announced plans are underway, pending authorization by federal regulators, to provide booster COVID-19 vaccinations for the general population, beginning in September. To determine eligibility for a third dose, visit sehealth.org/COVID or call 573-519-4522. SoutheastHEALTH continues to offer free COVID-19 vaccinations every Tuesday and Wednesday from 8 a.m. until noon for people ages 12 and over. To make an appointment, call 573-519-4522.
The new recommendations apply only to those who have received the Pfizer or Moderna vaccines. Appointments are available now for this group of individuals which includes those who are Immunocompromised due to active cancer, recipients of organ or stem cell transplants and anyone taking medications that weaken their immune systems.
Vaccination appointments are also available at Saint Francis Medical Center, Monday through Friday at the Healing Arts Pharmacy located at 211 Saint Francis Drive, Entrance 2 in Cape Girardeau. Call  573-381-5958 to schedule an appointment. Visit sfmc.net/covid19.
"We have developed a plan to begin offering these booster shots this fall subject to FDA conducting an independent evaluation and determination of the safety and effectiveness of a third dose of the Pfizer and Moderna mRNA vaccines and CDC's Advisory Committee on Immunization Practices (ACIP) issuing booster dose recommendations based on a thorough review of the evidence," read the statement from HHS public health and medical experts. "We are prepared to offer booster shots for all Americans beginning the week of September 20 and starting 8 months after an individual's second dose. At that time, the individuals who were fully vaccinated earliest in the vaccination rollout, including many health care providers, nursing home residents, and other seniors, will likely be eligible for a booster. We would also begin efforts to deliver booster shots directly to residents of long-term care facilities at that time, given the distribution of vaccines to this population early in the vaccine rollout and the continued increased risk that COVID-19 poses to them. We also anticipate booster shots will likely be needed for people who received the Johnson & Johnson (J&J) vaccine. Administration of the J&J vaccine did not begin in the U.S. until March 2021, and we expect more data on J&J in the next few weeks. With those data in hand, we will keep the public informed with a timely plan for J&J booster shots as well."