Kentucky State Police raises more than $9K for Special Olympics Kentucky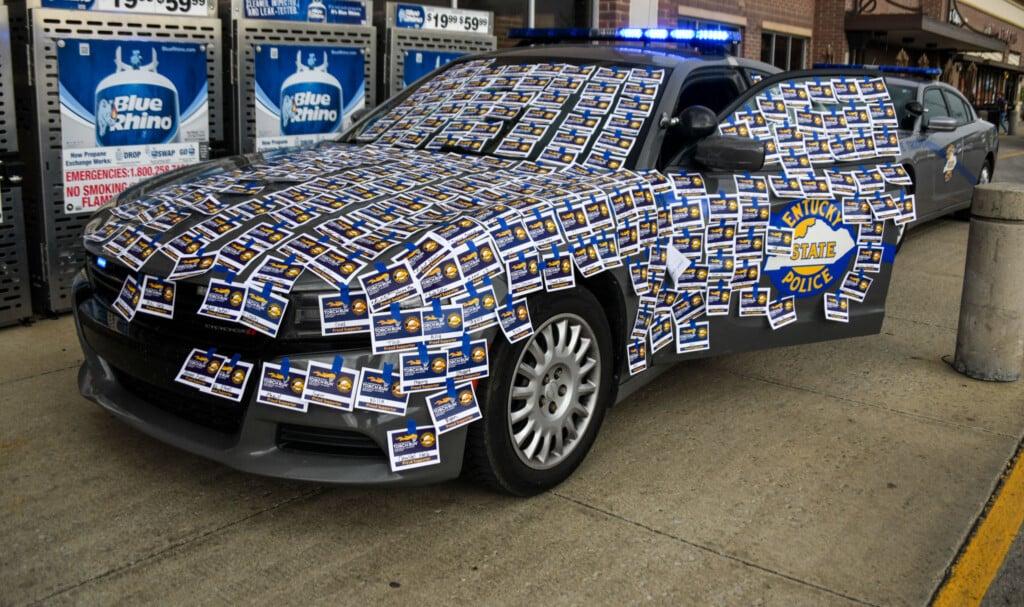 (KBSI) – The Kentucky State Police challenged Kentuckians to 'Cover the Cruiser' in support of Special Olympics Kentucky (SOKY) last week.
The events raised $9,185.
Special Olympics is the world's largest sports training program and competition for children and adults with intellectual disabilities.
The organization has served the needs of athletes and their families since 1970 and welcomes more than 6,000 athletes in Kentucky.
"Special Olympics emulates what Team Kentucky is building each day," said Gov. Andy Beshear. "It is so special to watch our citizens and law enforcement partner together to build a better, safer and more inclusive Kentucky for all. Our commonwealth has a heart of gold, and we set aside our differences for our brothers, sisters, friends and neighbors in need. Thanks to everyone for your generous support."
All 16 KSP posts participated by parking a state police cruiser at various public locations.
Citizens could place a custom SOKY sticker on the cruiser for a minimum $1 donation. Many Kentuckians donated more than the minimum., according to KSP.
"We are humbled by the support of our fellow citizens who always show up for 'Cover the Cruiser' events," said KSP Commissioner Phillip Burnett. "Special Olympics Kentucky and KSP have a great partnership, and we are proud to support our athletes, whether fundraising or attending their competitions."
The fundraising event began in 2020 when the annual Special Olympics Law Enforcement Torch Run was canceled in response to COVID-19 pandemic.
During the Torch Run, law enforcement members carry the Flame of Hope into the Special Olympic Games. The flame represents courage and the celebration of diversity.
The SOKY annual summer games is June 2-4, 2023, at Eastern Kentucky University in Richmond, Ky.
"We are excited and honored that KSP participated in the Cover the Cruiser event for the fourth year in a row," said SOKY President Trish Mazzoni. "In addition to raising funds to support our programs, KSP troopers also attend events like our State Basketball Tournament and our Summer Games to present awards to the athletes. The response from our athletes when they see a State Trooper in uniform presenting medals & ribbons, is awesome!"
The fundraiser has developed into a friendly competition among Kentucky State Police posts.
This year, Post 12 took top honors with a total of $1,462 raised.
In 2022, 'Cover the Cruiser' raised $11,442.94. Since the fundraising event began in 2020, KSP has raised $56,862.64 for SOKY.
Visit soky.org/coverthecruiser for more information about the 'Cover the Cruiser' campaign or to make a tax-deductible donation.