KYTC to hold public info meeting about improvements U.S. 62 at Calvert City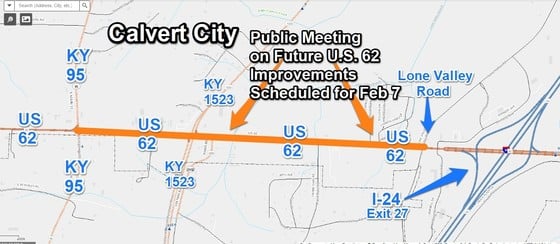 CALVERT CITY, Ky. (KBSI) – The Kentucky Transportation Cabinet has scheduled a public information meeting to update citizens on the widening and improvement of U.S. 62 between KY 95 and Lone Valley Road in Marshall County.
The meeting is Tuesday, Feb. 7, 2023 at the Calvert City Civic Center located at 991 5th Street in Calvert City, Ky.
It will be conducted in open-house format from 5:30 to 7:30 p.m. and allow attendees to view a video and exhibits, talk to representatives and ask questions about the project.
KYTC District 1 Chief Engineer Kyle Poat says KYTC soon will begin final design of the project.
"This meeting will give us a chance to receive public input on several proposals under consideration. We urge anyone who lives nearby, who owns property along the route, or who travels U.S. 62 in the project area to attend," Poat said. "We need the public to provide input that will help guide our planning, design and engineering work."
Handouts containing information about the project, comment sheets, and displays will be available during the public meeting. There will be no formal presentation so attendees can drop in anytime during the meeting. Those attending can review maps, renderings, and other displays, and KYTC representatives will be available to answer questions and accept written or oral comments.
The project runs from the intersection of U.S. 62 and KY 95/Main Street in Calvert City (U.S. 62 mile point 7.2) eastward to Lone Valley Road at mile point 8.497, a distance of 1.29 miles. It includes the U.S. 62 intersection with KY 1523/Oak Park Boulevard, along with several other streets and roads. Just over 9,000 vehicles travel this section of U.S. 62 in an average day. A survey of police crash data indicates nearly 40 crashes along the project area over the last three years, according to KYTC.
After the public meeting, project displays, and other materials will be available at the District 1 Office in Paducah. Office Hours are Monday-Friday, 7 a.m. to 3:30 p.m. Comments will be accepted at the District 1 Office until March 10. Comments also may be submitted by mail before that date to Chris Kuntz, Branch Manager Project Development, KYTC District 1 Office, 5501 Kentucky Dam Rd., Paducah, KY 42003.
All written comments will become part of the official meeting record. Once compiled, the meeting record and supporting documentation will be made available for review and copying after an Open Records request has been received and approved. Open Records requests must be submitted to the Transportation Cabinet, Office of Legal Services, Transportation Office Building, 200 Mero St., Frankfort, KY 40622, or via email to kytc.openrecords@ky.gov.
Anyone with a disability and requiring assistance should notify Chris Kuntz no later than Feb. 3, 2023. Call 270-898-2431, or mail the request to KYTC District 1 Office, 5501 Kentucky Dam Rd., Paducah, KY 42003.