More than $52.3 million raised for Western KY Tornado Relief Fund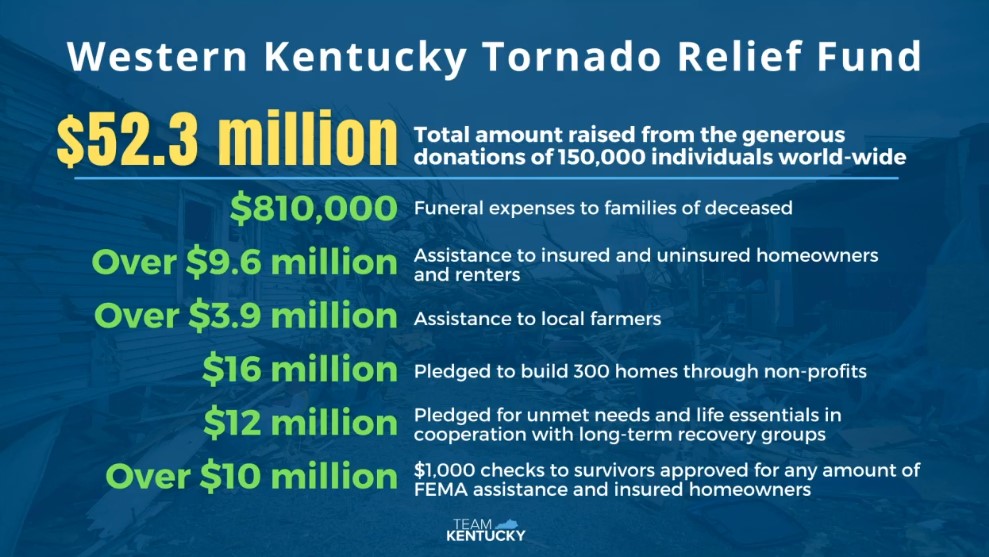 (KBSI) – The Western Kentucky Tornado Relief Fund has received more than $52.3 million from more than 150,000 individuals and organizations.
Dec. 10, 2021 was of one of the deadliest tornadoes in Kentucky's history. It took the lives of 81 Kentuckians.
Kentucky Gov. Andy Beshear gave an update during his Team Kentucky update on Thursday.
The Governor provided a full list of distributions and pledges, including:
$810,000 in funeral expenses to families of the deceased;
Over $9.6 million in assistance to insured and uninsured homeowners and renters;
Over $3.9 million in assistance to local farmers;
$16 million pledged to build 300 homes through the help of Homes and Hope for Kentucky, Habitat for Humanity and the Fuller Center on Housing;
$12 million pledged for individuals for unmet needs and life essentials in cooperation with local long-term recovery groups; and
Over $10 million in $1,000 checks to survivors approved for any amount of FEMA assistance and insured homeowners.
Gov. Beshear also provided a breakdown of the $1,000 checks that were issued. All check recipients were identified as tornado victims who made claims by private insurance companies or FEMA. The recipients were identified by FEMA and insurance companies as having been verified through their systems and having received payments through those entities. No checks were sent to anyone who was not on a FEMA or private insurance list, according to the Office of Gov. Beshear.
Related stories:
Gift cards to be distributed to new homeowners, volunteers as part of Team Western Kentucky Tornado Relief Fund