OVC preseason favorite Redhawks open 2023 slate this weekend in Arkansas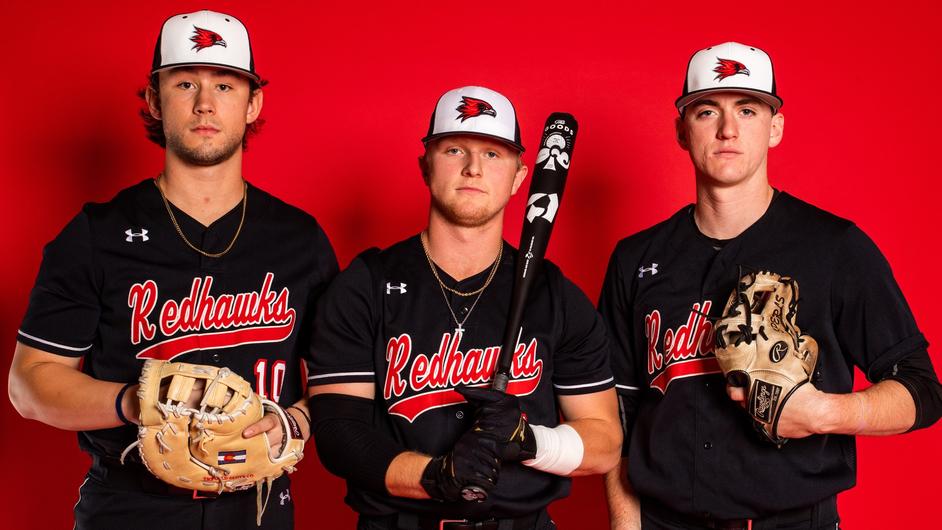 Photo courtesy of SEMO Athletics
Southeast Missouri at Central Arkansas:
Dates: Friday-Sunday, February 17-19, 2023.
Series Schedule: Fri. – 4 p.m., CT; Sat. – 4 p.m., CT; Sun. – 1 p.m., CT.
Location: Conway, Ark.
Facility: Bear Stadium.
Series: Tied, 7-7.
Head Coaches: Andy Sawyers (242-167 overall; 155-140 at SEMO; 81-63 OVC). Nick Harlan (387-210 overall; 24-29 at UCA; 18-12 A-Sun).
Follow the Redhawks
Radio: ESPN 93.5 FM & 1220 AM (Erik Sean).
Video: UCASports.com.
Live Stats: Game 1 | Game 2 | Game 3
Twitter: @SEMObaseball
Series Notes: Southeast Missouri (PDF)
Southeast Missouri Probable Starting Pitchers
Game 1 – Noah Niznik, LHP.
Game 2 – Collin Wilma, RHP.
Game 3 – Haden Dow, LHP.
Redhawks Open 2023 Season
Ohio Valley Conference preseason favorite Southeast Missouri opens its 2023 season with a three-game series at Central Arkansas. First pitch of the series is set for Friday at 4 p.m., CT.
Follow the Redhawks
Listen live on the radio at ESPN 1220 AM and 93.5 FM. Erik Sean will call the action Live stats for all three games of this weekend's series will be available online at UCASports.com. Video can be accessed at UCASports.com. Twitter updates will be provided @SEMObaseball.
Series History
Southeast Missouri and Central Arkansas are tied, 7-7, in their all-time series. This year marks the third time SEMO faces UCA with Andy Sawyers as its head coach. The Redhawks and Bears last met in 2018 with UCA beating SEMO twice in Conway, Arkansas.
Season-Openers
The Redhawks are 13-18 all-time in season-openers during its NCAA Division I era (since 1992). Southeast Missouri is 4-2 in such games under Head Coach Andy Sawyers. SEMO beat Western Michigan at home in 2019, UT Arlington in Nacogdoches, Texas in 2017, South Alabama in Mobile, Alabama in 2021 and #22 Dallas Baptist in Dallas during the 2022 campaign. Sawyers goes for his third-straight season-opening win when the Redhawks face Central Arkansas Friday.
Season 65
The 2023 campaign marks Southeast Missouri's 65th of college baseball. The Redhawks are in their 32nd season as an NCAA Division I program. SEMO is 1,431-1,161 all-time and 897-774-1 at the NCAA Division I level since the inception of its baseball program. The Redhawks have a 442-301-1 record in Ohio Valley Conference play. SEMO won five OVC regular-season titles (2002, 2014, 2015, 2016, 2021), five OVC Tournament crowns (1998, 2002, 2016, 2021, 2022) and made five NCAA Tournament appearances (1998, 2002, 2016, 2021, 2022) in program history.
Redhawks Picked to Win OVC
For the second-straight year, Southeast Missouri (128 pts.) was picked first in the Ohio Valley Preseason Poll selected by the league's Head Coaches and Communications Directors. SEMO received 16 of the 18 possible first-place votes. Morehead State, which earned the other two first-place nods, was picked second with 100 points. Eastern Illinois (89 pts.), Little Rock (86 pts.) and Tennessee Tech (78 pts.) rounded out the top five. SIU Edwardsville (76 pts.), UT Martin (41 pts.), Southern Indiana (26 pts.) and Lindenwood (24 pts.) complete this year's predicted order of finish.
Comeback Kids
The Redhawks posted a staggering 24 come-from-behind victories in 2022. Southeast Missouri won 64.8 percent of its games in comeback fashion that season. SEMO collected 13 one-run victories along the way.
Let's Do it Again
Southeast Missouri enters the 2023 season fresh off back-to-back 30-win campaigns. SEMO went 30-22 overall and swept the Ohio Valley Conference regular-season and tournament titles in 2021. A year later, the Redhawks compiled a 37-22 record and win their second OVC Tournament crown in a row. The 37 wins in 2022 are currently the most in a season with Andy Sawyers at the helm. Another 30-win season in 2023 will make Sawyers the third head coach in program history to record three-consecutive 30-win campaigns.
Amazing Run
The Redhawks were nearly unbeatable on their home diamond (Capaha Field) in 2022. Southeast Missouri led the nation with a 23-2 home record. The home record was the best in SEMO baseball history. The Redhawks won their first 14 home games a year ago.
More Program Firsts
Along with its staggering home record, Southeast Missouri won back-to-back Ohio Valley Conference Tournament titles and made the NCAA Tournament two years in a row for the first time in program history. SEMO won three-straight elimination games to claim its OVC Tournament crown in 2022. The Redhawks advanced to the NCAA Regional in Louisville, Kentucky in 2022 and NCAA Regional in Oxford, Mississippi in 2021.
Preseason All-OVC
Outfielders Jevon Mason and Brett Grabe, and right-handed pitcher Kyle Miller represented Southeast Missouri on this year's Preseason All-Ohio Valley Conference Baseball Team. Mason, who hails from West Des Moines, Iowa, garnered OVC All-Tournament Team accolades in 2022. He ranked fourth on the team with a .317 batting average in 59 starts, including 57 in left field. Mason tied for second on the team with 73 hits, ranked tied for third in doubles (14) and third in home runs (14). His 72 runs scored led the conference and rated 23rd in the nation. A native of Sacramento, California, Graber landed was a Second-Team All-OVC pick last season. He finished third on the team with a .321 batting average as one of four players who hit over .300. He posted 10 home runs, 42 runs scored, 70 hits, three triples and 46 RBI. Graber collected multiple hits in 22 of his starts, as well. Miller, who is from Eureka, Missouri, joined Graber as a Second-Team All-OVC selection. He was SEMO's closer who went 8-4 with a 3.35 ERA in 24 relief appearances. Miller picked up six saves and led the Redhawks in wins. He struck out 47 and walked 14 in 45.2 innings.
Home Run Record
Southeast Missouri broke a program record with 97 home runs in 2022. Five players hit 10 or more home runs for the Redhawks that year. Three of those five in Lincoln Andrews (15), Jevon Mason (14) and Brett Graber (10) are back this season. That trio accounted for over 40 percent of the team's home run output. SEMO's 97 home runs ranked third in the Ohio Valley Conference behind Tennessee Tech (114) and SIU Edwardsville (99).
Opening Weekend Rotation
Left-hander Noah Niznik will make his first career opening day start at Central Arkansas Friday. Niznik, in his fifth season with the Redhawks, went 1-0 in 17 appearances and 10 starts last season. He struck out 43 in 50 innings and allowed 24 walks. Right-hander Collin Wilma and left-hander Haden Dow will start games two and three, respectively. Dow takes the mound for his first career Division I start after transferring to SEMO from Cloud County Community College.
2023 Roster
Southeast Missouri's 2023 roster includes 39 players with nine seniors, 18 juniors, five sophomores and seven freshmen. SEMO welcomes 16 newcomers to this year's club. The Redhawks also have six returning starters in Brett Graber (OF), Jevon Mason (OF), Ty Stauss (OF), Lincoln Andrews (INF), Peyton Leeper (INF), Ben Palmer (INF). Graber, Mason and Stauss are SEMO's top three hitters back. Pitching wise, the Redhawks return Noah Niznik and Collin Wilma, along with relievers Kyle Miller and Anthony Klein.
Mason Breaks Single-Season Runs Record
Jevon Mason broke Southeast Missouri's all-time single-season record in runs scored with 72 last season. Mason led the Ohio Valley Conference and ranked 23rd in the nation in that category. He also rated 25th in the country and first in the league with 1.25 runs per game. Mason surpassed current Associate Head Coach and former SEMO standout Trevor Ezell for the new mark.
Mr. Clutch
Brett Graber has relished the role of being a clutch hitter and that showed several times over the course of the 2022 season. Graber had three walk-off hits and delivered a pair of hits that decided the outcome late in the game a year ago. He delivered a go-ahead single in the top of the 10th inning that sent Southeast Missouri to a win over #22 Dallas Baptist (2/19). Graber hit a three-RBI triple in the bottom of the seventh to lead SEMO to an 8-5 win over Arkansas State (4/5). His walk-off hits included a single in the bottom of the ninth vs. Murray State (4/10), home run in the bottom of the 10th vs. Morehead State (4/22) and three-RBI double in the bottom of the ninth vs. UT Martin (5/14). Not to mention, Graber scored the game winning run in the bottom of the 10th inning vs. Morehead State (4/22).
100 Starts
Jevon Mason will make his 100th career start when he takes the field against Central Arkansas Friday. Mason will become the third active player on this year's roster to get 100 career starts joining Peyton Leeper (110) and Lincoln Andrews (105).
On Deck
The Redhawks head to Middle Tennessee for their first midweek matchup on Feb. 21. After that, Southeast Missouri heads to Abilene Christian for a four-game series Feb. 24-26.
Welcome Back Kinney
Matthew Kinney returned to Cape Girardeau for his second stint as Southeast Missouri's pitching coach. Kinney spent the fall at Davidson and one year before that at Army West Point as pitching coach and recruiting coordinator. Prior to those moves, he was with the Redhawk from 2016-21 working first as a volunteer assistant before taking over as pitching coach and recruiting coordinator.