Person of interest identified after threats to Perry County School District 32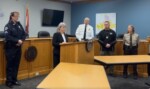 PERRYVILLE, Mo. (KBSI) – Police have identified a person of interest after receiving two phone calls threatening the Perry County School District 32. However, they are not releasing an identity yet.
Authorities held a news conference Friday afternoon and announced the caller used VoIP (Voice Over Internet Protocol) to make the calls. The caller claimed to be a student at Perryville High School and planned a shooting Friday morning.
Police believe this is the same person who called them on Wednesday that prompted the school to be evacuated. The Perryville Police Department received a call from same number that claimed to be a student at Perryville High School and planned a shooting Friday morning.
This makes six calls in four months.
School leaders are working with state and federal agencies.
Perry County School District 32 canceled classes Friday after another threat directed toward the school district.
Authorities searched campus Friday again and did not find weapons or incendiary devices.
Anyone with information about the threats are encourages to call the Perryville Police Department 573-547-4546.
Administration team, school officers and others working together to identify.
School leaders say the district safety plan was successfully implemented this week.
School is scheduled to resume Tuesday as scheduled.
Perry County Sheriff Jason Klaus says it's been a difficult week and asked for prayer and patience as they investigate.
"I have seen the spirit of the community this week," said Sheriff Klaus.
In an email sent to parents Friday morning, the school district said, "Today 1/13/23 PCSD campus will be closed to ALL students and staff. The district has been notified of an additional terroristic threat phone call to the police department. We will communicate additional information as it becomes available."
Another email to parents said, "The entire campus is closed until further notice: No students, staff, or visitors should be on school grounds or in the school buildings. This is to allow our law enforcement agencies to conduct another sweep of our buildings and to continue their investigation."
Friday morning's call appeared to come from the same unknown individual, according to the email.
Perryville Police Department requested assistance from the Bureau of Alcohol, Tobacco, Firearms and Explosives and the Federal Bureau of Investigation to identify the caller.
"The person or persons responsible for terrorizing our campus will be prosecuted to the fullest extent of the law," according to the email.
Related story:
Perryville high, middle school students, staff return to class after threat prompts evacuation