Raising awareness about human trafficking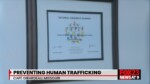 CAPE GIRARDEAU, Mo. (KBSI) – Last week we reported on a 15-year-old being rescued from human trafficking in McCracken County, Ky. From there we did some investigating to find out how to stay aware of human trafficking. 
I spoke with the Missouri State Highway Patrol which says the threat of human trafficking is big even in smaller areas. 
"So, this is not something that just happens in the big cities or on the other side of the country, it's happening in Cape Girardeau and it's happening in southeast Missouri right now," said Parrott. 
According to humantraffickinghotline.org in 2021, Missouri identified 240 cases, Illinois had 243 identified cases, Kentucky 115 and Tennessee 152.
Many of those cases involved multiple victims. 
To help fight against human trafficking Missouri State Highway Patrol has made efforts by requiring all troopers to take special training. 
"The last five to six years every trooper has gone through interdiction for the protection of children," said Parrott. 
Parrot says that through the training offices are taught to identify the various types of human trafficking. 
"It's the exploitation of individuals through forced labor sex trade things like that and some of the things that the indicators that we look for"
As the Highway Patrol increase efforts to handle the different forms of human trafficking, 
Southeast Missouri Network Against Sexual Violence (SEMO NASV) focused on the abuse children face. 
"So just in general if a child is being sexually abused, they may exhibit some signs like withdrawing from activities that they really typically have enjoyed showing signs of fear of certain adults they may have some regression in their development."
Kendra Eads, SEMO NASV executive director tells me that when it comes to children many of the cases, they see are children being abused by relatives. 
"A close relative is exchanging a child with an adult for a payment, maybe for drugs or for some other debt," said Eads.
Along with watching for the signs of changing behavior, Eads remind people if they see something say something. 
"So, the big thing is really just being able to have dialogue with kids asking them how things are going letting them know that if there's anything going on that makes them worried or scared, they can talk to an adult about it," said Eads.
Sgt. Parrott also says that if you see something don't put yourself in harm's way, contact 911 or highway patrol at star 55 and document everything that you see.
January 11 is Human Trafficking Awareness Day. To show your support against Human Trafficking you can wear blue and use the hashtag #WearBlueDay.