SEMO falls to Aces at home-opening tilt
Redhawks back on home turf this weekend vs Milwaukee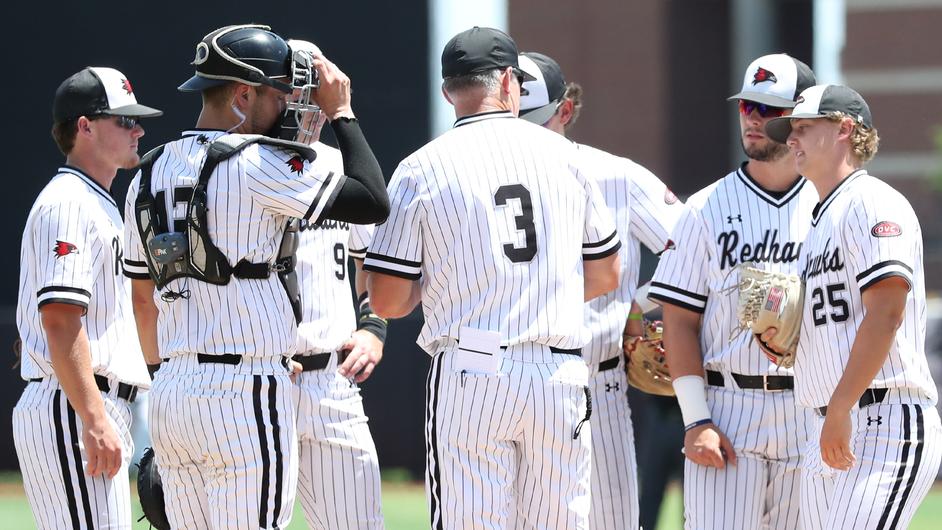 Photo courtesy of the SEMO Athletics Department
CAPE GIRARDEAU, Mo. – Evansville (3-5) scored six runs in the third inning and five in the eighth en route to a 14-7 win over Southeast Missouri (2-7) Wednesday afternoon at Capaha Field.
UE, which didn't trail in the game, broke a 1-1 tie with its six-run third inning and never looked back.
Chase Hug led off the third reaching on an error and Simon Scherry followed with a double to score Hug. On the next play, Brendan Hord hit a two-run home run. Evan Waggoner later knocked in a run when he grounded out and both Ty Rumsey and Kip Fougerousse added RBI-singles to give UE a 7-1 advantage.
SEMO pulled to within two on a two-out grand slam by Carlos Aranda, the first of his career. With Josh Cameron and Lincoln Andrews already on base, Ty Stauss was hit by a pitch before Aranda drove his second home run of the season over the right field wall making it a 7-5 contest.
The Purple Aces extended their lead to 9-5 with the help of another run in the fourth and one in the fifth. Eric Roberts knocked in Scherry on a single to right in the fourth and Waggoner singled home a run in the fifth.
UE tacked on five more runs with the help of a grand slam by Danny Borgstrom in the eighth inning.
Chance Resetich launched his second home run of the season with two outs in the bottom of the eighth to narrow the Purple Aces lead to 14-7.
SEMO scored the game's final run when it loaded the bases with no outs in the ninth. Jevon Mason walked, advanced to third on a single by Josh Cameron and scored on a double play.
Ethan Osborne (0-1) took the loss in relief. Osborne allowed five runs on three hits, waked two and struck out one in two-thirds of an inning.
Aranda finished at 2-for-4 with a run scored, grand slam and five RBI, while Cameron went 2-for-4 with a run scored and two stolen bases. This week's Ohio Valley Conference Player of the Week, Cameron extended his hitting streak to four games.
UE registered 16 hits with Hug going 3-for-5 with two runs scored and one RBI to lead the way. Rumsey also had three hits out of the nine-hole for the Purple Aces.
Max Hansmann (2-0) picked up the win.
SEMO opened a nine-game homestand in its home-opener against UE today. The Redhawks are now 21-11 all-time in home-opening games during their NCAA Division I era (since 1992).
The Redhawks return to action when they host Milwaukee in a three-game series beginning Friday at 3 p.m., CT. For tickets, call (573) 651-2113 or purchase online at SEMORedhawks.com/Tickets.