SEMO women prep for road trip to Lindenwood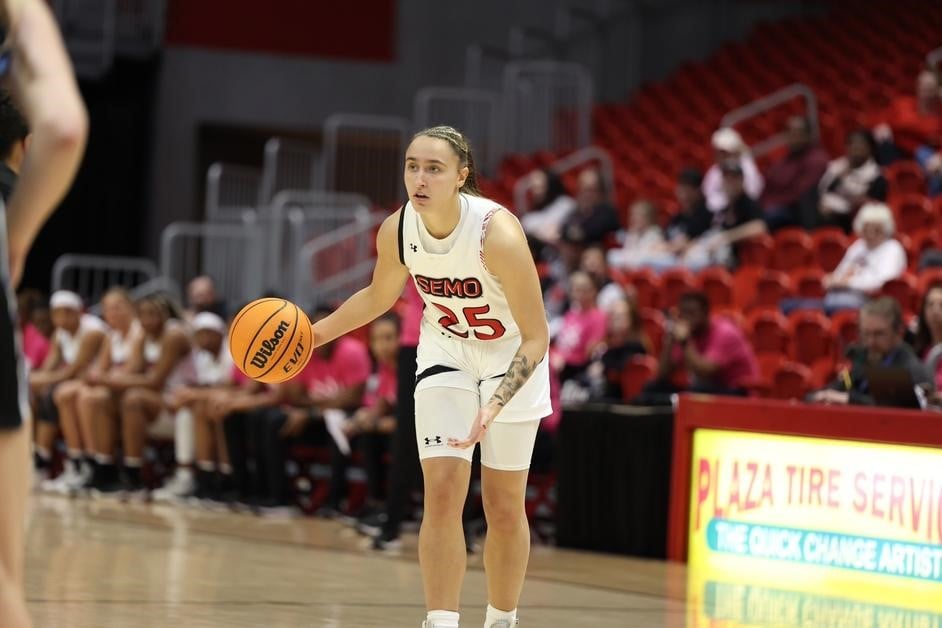 Photo courtesy of SEMO Athletics Department
CAPE GIRARDEAU, Mo. (KBSI) – The 13-14 (8-8 OVC) SEMO women are prepping to hit the road Thursday for a 5:30 p.m. tilt at the 2-22 Lindenwood Lions.
Thursday's contest will be the first time the Redhawks have played in St. Charles, Mo. against Lindenwood.
Clinched
After Saturday's win over Southern Indiana, the Redhawks officially clinched a berth in the Ohio Valley Conference Tournament in Evansville, Ind. One of the most improved teams in the league this season, by far, missed the conference tournament entirely last season (2021-22) winning only two conference games.
For head coach Rekha Patterson, the tournament appearance marks the seventh for her Southeast Missouri career, and is the first appearance in the tournament since the 2020-21 season.
Series History
Thursday's matchup with Lindenwood will mark just the third time that the Redhawks and Lions have squared-off in the schools' history. The Redhawks lead the all-time series 2-0 having most recently defeated Lindenwood, 68-45 on January 12th, 2023.
The previous meeting occurred before Lindenwood joined the Division-I ranks and resulted in a SEMO win by a final score of 66-56, on Dec. 3, 2012.
Scouting the Opponent
Lindenwood Lions
The Lions come into Thursday's contest sporting a record of 2-22 (1-15 OVC) in their first season in the Ohio Valley Conference, they look for some potential and positives in their final two games.
Lindenwood's two wins on the season have both come at the Hyland Arena in St. Charles, Mo.
Most recently, LU faced-off with Morehead State dropping the contest by a final score of 67-62.
The Lions had a strong lead (38-29) heading into halftime before relinquishing the lead to the Eagles late in the fourth quarter.
In home conference games this season Lindenwood has averaged 61.5 points a game while allowing 72.8 points to the visitors. Over their season they have shot a 40.2% from the field with a 30.9% from the three.
Lindenwood's top performer was Masyn McWilliams.  A graduate student, originally from Cape Girardeau, Mo.,  McWilliams was on the court for 33 minutes which led to 18 points and seven rebounds to lead the Lions Saturday afternoon.
The other two Lions to surpass double digits points were Devin Fuhring, a guard from St. James, Mo. with 13 points and guard Mary McGrath with 12 points.
Lindenwood's best rebounder for the year with 155 boards is McGrath with an average of 5.5 rebounds a game, she also leads the team in total points with 291 and 12.1 points a game. The Lions top facilitator is Alana Striverson with 51 total assists on the year.
The Lions last win came back on Feb. 4, of a score of 84-75 against the University of Tennessee at Martin for their Breast Cancer Awareness Game
Last Time Out
Jaliyah Green scored 20 points and Southeast Missouri (13-14, 8-8) forced a season-high 26 turnovers in a 63-59 win over Southern Indiana (11-16, 5-11) Saturday afternoon at the Show Me Center.
SEMO's defense locked down to force 25 or more turnovers for the second-straight game after turning Eastern Illinois over 25 times at home Thursday. The Redhawks also pushed their winning streak to four-straight with just two games left in Ohio Valley Conference play.
Down, 11-7, SEMO went on a 13-0 run to grab a nine-point advantage toward the end of the first quarter. The Redhawks forced eight turnovers in a span of 3:22 and kept USI scoreless for the final 3:22 of the quarter.
Following two free throws by Rahmena Henderson, Kennedi Watkins scored back-to-back baskets. Sophie Bussard scored a layup off a steal by Kiyley Flowers before Henderson made another free throw to give the Redhawks a 20-11 lead after 10 minutes of play.
The shooting and turnover woes for the Screaming Eagles carried over to the second quarter. USI missed four shots and turned the ball over twice before a basket by Hannah Haithcock broke USI's lengthy scoreless stretch. Haithcock's bucket put an end to a streak of 15-straight points by SEMO.
After Haithcock's jumper, Green responded with a layup to give the Redhawks a double-digit lead at 24-13 with 6:48 left to play in the second quarter. Diona Reed's second-chance basket tacked on two more points before Green's layup increased SEMO's lead to 15 (28-13) with 3:34 to play.
SEMO later led 33-15 at the half after USI scored only four points in the second quarter. The Redhawks smothered USI into committing 15 first-half turnovers, including 11 in the first quarter alone.
USI outscored SEMO, 23-13, in the third quarter and was within eight points after Meredith Raley made two free throws with 19 seconds.
The Screaming Eagles kept chipping away and found themselves in a two-possession game when Haithcock's two free throws dropped SEMO's lead to 46-40 early in the fourth period.
A second-chance layup by Raley made it a six-point game again, 50-44, at the 7:28 mark.
USI later got within two points on a jumper by Haithcok and then made it a 53-52 contest on a pair of Haithcock free throws with 3:36 left to play.
SEMO answered with a layup by Green and forced two turnovers on USI's next two possessions. Green scored again, this time on a reverse layup, to give the Redhawks a 57-52 cushion at the 2:08 mark.
Green gave the Redhawks another five-point advantage on her layup and Halle Smith made two free throws to keep SEMO ahead, 61-57, with 54 seconds on the clock.
Clinging to a 62-59 lead, Green was fouled on the inbounds pass and split two free throws with 14.5 seconds. After Green's miss on her second attempt, Flowers stole the ball on the last possession to bury the Screaming Eagles for good.
SEMO led for over 32 minutes of the game.
The Redhawks collected 18 steals, a season-high in OVC play. Addiitonally, SEMO scored 31 points off USI's mishaps.
Green shot 9-of-19 from the field, while Henderson followed with 14 points, eight of which came at the free throw line. Flowers added a career-high nine steals, as well.
USI was led by Raley's game-high 27 points.
Looking Ahead
The Redhawks will conclude the 2022-23 regular season on Saturday, Feb. 25, when they take on SIUE in Edwardsville, Ill. Tip-off is slated for 1 p.m., CT.